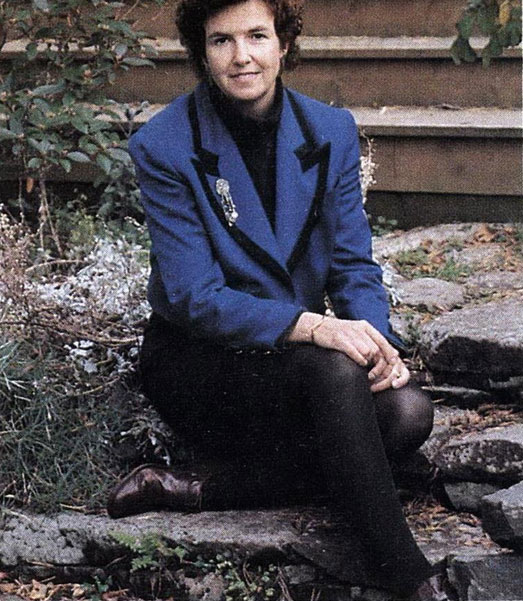 The Nova Scotia College of Art and Design is pleased to announce the upcoming recipient of the Fall 2001 Convocation Honorary Degree, Kate Carmichael. Ms. Carmichael, an outgoing and devoted supporter of Halifax's vibrant downtown business community, has been serving as Executive Director of the Downtown Halifax Business Commission since 1996. A resident of Nova Scotia for most of her life, Ms. Carmichael has been an active volunteer and leader in the culture, education, recreation, and business sectors. She began her long commitment to community involvement in the early seventies, becoming involved in the Lunenburg County School system before her youngest children were old enough to attend classes. Her active involvement in the political sphere lead her to serve the Lunenburg County School Board in executive capacities from 1988 to 1991, eventually serving as Chair of the Board in 1990 and 1991.  She was elected Alderman for the City of Halifax from 1994-1995, serving residents of the South-end Ward.  Since then she has served as a Board Member with numerous organizations including Halifax Dance, Family and Children's Services, and The Lunenburg Arts Council.  She is past President of the Lunenburg Art Gallery and currently serves on the Heritage Advisory Committee of the Halifax Regional Municipality and the Nova Scotia Heritage Trust.
For the large community of craftspeople and artisans in Nova Scotia, Kate Carmichael stands out as a key figure in the development of the province's craft industry.  Ms. Carmichael conceived and organized the first and largest craft market in Nova Scotia, The Craftman's Christmas Market.  Started in 1972, the Market was lead by Ms. Carmichael until 1987.  To many she is considered the "Godmother of the crafts movement."
A passionate advocate for downtown Halifax who for nearly two years publically confronted her terminal disease died in her sleep October 18, 2001 at home.
Kate Carmichael, 51, was diagnosed with an acute form of leukemia in November 1999. Instead of retreating from her public life as executive director of the Downtown Halifax Business Commission, Carmichael focused her attention on her job, her family and her personal campaign to boost blood donations.[/mk_blockquote]