NSCAD University is pleased to announce the recipient of this year's honorary degree will be Dr. Donald R. Sobey, Chairman Emeritus, Empire Corporation on April 27 2008.  "We are delighted to honour Dr. Sobey with the Nova Scotia College of Art and Design's highest award for his longstanding and invaluable commitment to the arts" says President David B. Smith, "Dr. Sobey's philanthropy has encouraged and supported the careers of many young Canadian artists and for this we are truly grateful".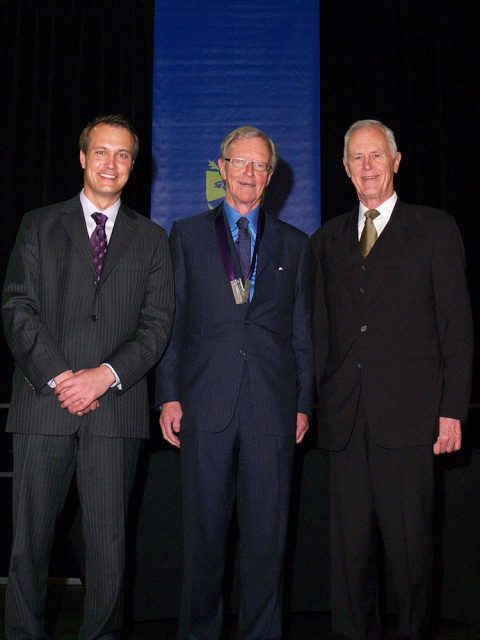 As President of the Sobey Art Foundation, Donald Sobey created the The Sobey Art Award in 2002, a $50,000.00 visual art prize that is awarded annually to an emerging Canadian artist. In 2003, Dr. Sobey received the Keith Kelly Award for Cultural Leadership from the Canadian Conference of the Arts. Dr. Sobey currently serves as Chair of the National Gallery of Canada, and has served as Chair of the Camp Hill Medical Foundation, "Working Miracles", Chair of the Capital Campaign Cabinet for the Queen Elizabeth II Health Sciences Centre, and on the Project Grand Jeté Building Campaign Cabinet for The National Ballet School. Dr. Sobey has also served as a Governor of the Olympic Trust of Canada and is past Chair of the Friends of the Nova Scotia Museum of Industry Society. He also currently serves on the Board of The World Wildlife Fund. In May, 2007, Mr. Sobey and his brother, David F. Sobey, were inducted into The Canadian Business Hall of Fame.
Renowned Canadian artist and 2004 Sobey Art Award winner Jean-Pierre Gauthier will deliver the Commencement address. Jean-Pierre Gauthier received a Bachelor of Visual Art in 1990 and an MFA from Université du Québec à Montréal in 1995. Mr. Gauthier's work has been featured in solo exhibitions at the Musée d'Art Contemporain de Montréal in 2007; the Art Gallery of Alberta,  in 2006; the Jack Shainman Gallery in New York in 2003 and 2005; the Knoxville Museum of Art, Tennessee in 2003; the Musée des Beaux-Arts de Montréal in 2002; the Monte Clark Gallery in Vancouver in 2001 and at the Angelica Festival in Bologna, Italy in 2001 amongst many others. Jean-Pierre also participated in numerous group exhibitions in Korea, Germany, Sweden, Norway, United States, Spain, Italy, France and Canada since 1990. Mr. Gauthier's performances include sound art with invented instruments performing live as a solo experimentalist performer as well as collaborating with professional musicians from Italy and Montreal in the experimental music scene since 1998.