Saturday, April 22, 200611:00 a.m. – 2:00 p.m.
Westin Nova Scotian, 1181 Hollis Street 
More than 200 students will graduate at NSCAD's Spring 2006 Convocation Ceremony, Saturday, April 22, at 11:00 a.m.  Renowned ceramicist Betty Woodman will be presented with a Doctor of Fine Arts, honoris causa, and graduating student Margaret Forsey will deliver the valedictorian address.
Margaret Forsey will graduate Saturday with a Bachelor of Fine Arts (Interdisciplinary.)  Recently featured as one of NSCAD's Emerging Artists at Argyle Fine Art, Forsey's self-described sparkly, fluffy and colourful hooked rugs convey positive and encouraging messages that lift the spirit.  A native of Newfoundland, Forsey has received multiple scholarships throughout her time at NSCAD, and was selected by her peers as this year's valedictorian.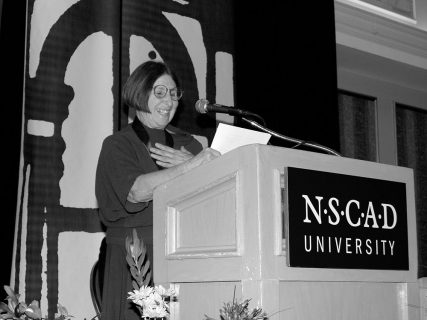 Betty Woodman was born in Norwalk, Connecticut in 1930. She currently lives and works in New York City and Antella, Italy. Woodman studied ceramics at the School for American Craftsmen at Alfred University in Alfred, New York, from 1948-1950. She has received many honours including a Rockefeller Foundation Fellowship at the Bellagio Study Center, Bellagio, Italy, 1995; National Endowment for the Arts Fellowships in 1980 and 1986; and a Fullbright-Hays Scholarship to Florence, Italy, 1966. Woodman began teaching at the University of Colorado, Boulder in 1979, and was made Professor Emeritus in 1998.
Over the course of her lengthy career, Woodman has had numerous solo exhibitions at museums and galleries internationally, beginning with "Salt Glaze" at the Joslyn Art Museum, Omaha, Nebraska in 1970. Most recently these include her retrospective at the Metropolitan Museum of Art, New York, "The Art of Betty Woodman", as well as her solo show "Theatres of Betty Woodman" presently at the Ariana Museum, Geneva, Switzerland. Since 1983, Woodman has shown regularly at Max Protetch Gallery, New York.
Woodman's work has frequently been included in group exhibitions since 1968 and is part of more than fifty public collections, including the Boston Museum of Fine Arts; International Ceramic Museum, Faenza, Italy; Metropolitan Museum of Art, New York; Musée des Arts Decoratifs, Paris; Museum of Decorative Arts of Montréal; Philadelphia Museum of Art; the V & A Museum, London; Whitney Museum of American Art, New York; World Ceramic Center, Ichon, Korea.
Critics have recognized the value of Woodman's contribution to dialogues in both ceramics and art. Her upcoming monograph, Betty Woodman (New York: The Monacelli Press, 2006) includes essays by Janet Koplos, Barry Schwabsky, and Arthur Danto.