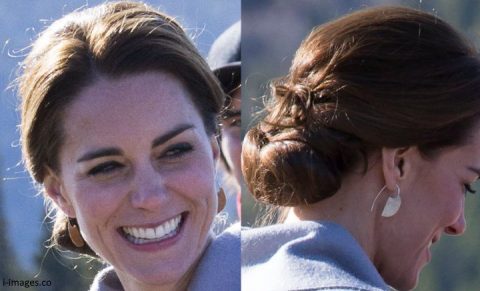 They may be the world's most looked-at earlobes. And Shelley MacDonald's earrings are adorning them.
Suddenly basking in the "Kate Effect," the NSCAD Jewellery and Metalsmithing grad is scrambling to fill a mountain of orders in the wake of the Duchess of Cambridge wearing her earrings while on tour in the Yukon earlier this week.
It's all been a complete surprise. Shelley, currently teaching in Reykavik, Iceland, was in a coffee shop at the end of the day catching up on messages and searching out videos of the Duke and Duchess of Cambridge's visit to Yukon, where she's usually based. That's when she received a message through her Etsy shop requesting earrings like the ones Princess Kate was wearing.
"And now my phone hasn't stopped. I've been inundated with orders," says Shelley, originally from Antigonish. "It's a good feeling but it's a little overwhelming too."
Finding out how Kate came to be wearing the earrings is a bit of a mystery, but Shelley thinks they were purchased for her by her stylist from a shop in Whitehorse.
In any case, she's eager to take advantage of this opportunity, a boon for her three-year-old business, which she began after realizing that with her NSCAD education, she knew much more than the jeweller-goldsmith she was working for. It was time for her to go out on her own.
"I always knew this was something I had to do but it's scary to take the jump," says Shelley, who sold work at the Halifax Farmers Market while a student at NSCAD. She supplies a number of shops with her work, and also has her own seasonal micro-boutique in Carcross, Yukon, not far from where the cruise ships dock in Scanway, Alaska. That's in addition to the Etsy shop under the name Shelley Silversmith.
She wanted to share her good fortune with her alma mater and the professors who are her mentors, including Lillian Yuen, Kye-Yeon Son and Pamela Ritchie.
"I have nothing but good things to say about NSCAD," she says, adding that she could have finished her degree in four years but opted to stay two extra years "to take all the courses I could."
She says NSCAD's advantages are its emphasis on fine craftsmanship and the handmade, the support of the professors— "they have so much to give"—and NSCAD's 24 hour access.
"Since I've been away from NSCAD and talked to grads from other programs, I know that NSCAD is the best."