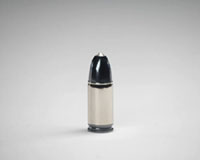 Congratulations to Joe Fourgere, BFA '10, recently named co-winner of the 7th National Student Jewellery Competition, and Emily Doiron, BD '06, BFA '10, recognized as one of the five finalists from across Canada for 2010.
Joe shares his award with Gabrielle Desmarais, Ecole de joaillerie de Montreal. For his achievement, Joe will be granted a solo exhibition and a one-year membership to the Metal Arts Guild of Canada.
The exhibition of the finalists' work continues until July 24 at Lafrenière & Pai Gallery, located at 13 Murray Street in Ottawa.