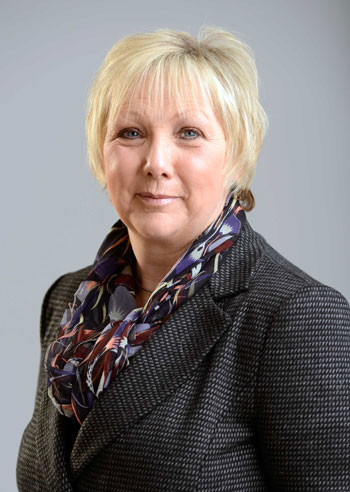 NSCAD University is pleased to announce the appointment of Professor Dianne Taylor-Gearing as president of NSCAD University.
An art educator, fashion designer and seasoned administrator, Professor Taylor-Gearing will step into the leadership position at NSCAD University effective August 4, 2014. She will succeed Dr. Daniel O'Brien in the role, becoming the school's 22nd leader over the past 127 years.
"We welcome Prof. Taylor-Gearing to Halifax and to NSCAD University," says Grant Machum, chair of NSCAD's Board of Governors. "She has substantial experience working with independent arts institutions in the U.K., United States and Canada and providing guidance through times of change. A skilled leader and administrator, she's known for her team-building approach."
A search for a new president at NSCAD University commenced last fall by the Board of Governors' search committee with the assistance of the Atlantic Canadian firm Knightsbridge Robertson Surrette. The committee was comprised of representatives from the Board of Governors, as well as students, faculty, and alumni. Prof. Taylor-Gearing's appointment was approved by the NSCAD University Board of Governors at its meeting on April 24.
"I'm delighted to be joining an outstanding art and design institution with an international reputation and a rich history," says Prof. Taylor-Gearing, from her home in Calgary, Alberta. "I'm attracted by NSCAD University being a small institution with such a committed community and the opportunity to lead in a presidential role."
Prior to  arriving at NSCAD University, the U.K. citizen and Yorkshire native will have served two years as the Vice-President Research and Academic Affairs at the Alberta College of Art + Design (ACAD) in Calgary, Alberta where she was tasked to advance the structure, strategy and academic rigor of its degree programs. Achievements include the approval of the school's first grad program, a Master of Fine Arts in Craft Media, the introduction of a new academic structure with the appointment of four academic chairs, and accessing funding for new "2+2" programs between ACAD and other Alberta colleges.
Prof. Taylor-Gearing has a "learning plan" for the first three months of her mandate at NSCAD University. In that time, she aims to gain a deep understanding of the school's vision and strategic plan, challenges and opportunities, barriers and resources, structure, and external realities and internal perceptions. Once the learning phase is over, she says, "we can start to move forward based on the collective vision of a creative community."
She has more than 27 years of experience in art and design education and practice. She graduated with a Bachelor of Arts (Honours) in Fashion and Textiles from Middlesex University, London. She then completed two years of post-graduate studies for the award of Higher Diploma in Fine Art, Theatre Design from the University of London, Slade School of Fine Art; and then earned her Post Graduate Teaching Certificate from Leeds Metropolitan University, U.K. Prof. Taylor-Gearing was elected Fellow of the Royal Society of Arts, London in 1990 and graduated from the Harvard Business School General Management Program in 2011.
Prior to her position at ACAD, Prof. Taylor-Gearing was the Pro-Vice Chancellor and Executive Dean at the University for the Creative Arts, U.K.; and Head of the Faculty of Design at Ravensbourne in London, U.K. She was also the Vice President Admission at the Savannah College of Art and Design in Savannah, Georgia.
Student achievement and success is at the heart of her passionate commitment to creative arts education, research and practice. She has a track record of reaching out to local communities and contributing to making a positive difference. Prof. Taylor-Gearing was the chair of the Medway Cultural Partnership in Kent, U.K., and a founding Governor of the Strood Academy School in Medway, Kent, U.K.
Prof. Taylor-Gearing will continue the work Dr. Daniel O'Brien has championed at NSCAD University: financial sustainability; enrolment growth; building closer relationships with stakeholders; and ensuring that NSCAD University remains one of the world's leading arts schools. NSCAD University is in the midst of considering various strategic reports including an analysis of physical space and opportunities for affiliation with other Halifax universities.
The university has benefited immensely from the work of the outgoing President Dr. Daniel O'Brien. "His wisdom and considerable energy have been invaluable," says Mr. Machum. "I want to thank him for everything he's done to build trust and lead NSCAD to financial sustainability. He has built a solid foundation for the incoming president."
Prof. Taylor-Gearing will be moving to Halifax with her husband Colin and Labrador retriever Trudy.