What started as a gag gift has evolved into a prize-winning lithograph Paintball Supper for NSCAD's Dan O'Neill.
The corny present—a paint-by-numbers set—was meant to poke fun at Dan's artistic pursuits but instead it inspired him to create a series of lithographs.
"This is what happens to me: it's a line or a word or a phrase, a lyric or a riff," said Dan, a regular part-time faculty member in NSCAD's Fine Arts Division.  "I just thought, oh my God, there's something here, so I developed the first lithograph, Paintball Sunflowers."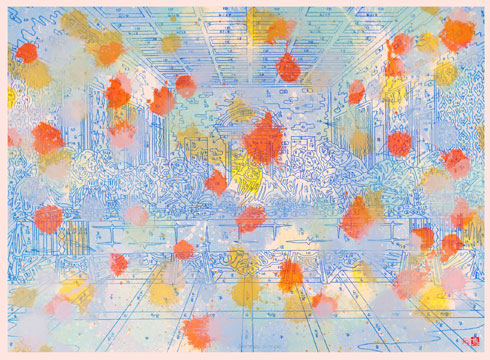 Dan recently claimed third prize for Paintball Supper at the seventh annual Open Studio National Printmaking Awards held at the Palais Royale in Toronto.
"The point is that we (the other candidates) share in this award ceremony.  It's not about monetary value. The value system, the way it's discharged, does not necessarily mean that one's better and one is not, that one is higher and one is lower."
"I'm extremely honoured to have been chosen and for Paintball Supper. Imagine, of all possible images, 'cause it's not a kick at Christ – it's a kick at kitsch," he said.
Dan's journey into fine art and lithography came later in life. After 17 years working in Montreal doing graphic design he made the decision to go back to school and pursue a degree in fine arts. "I've always loved visual art, I was always attracted to it but didn't quite know why or what to do about it," he said.
Inspired by friends Jiri Kaiser and Ivan Dobroruka , both fellow illustrators, as well as Professor Bob Venor of Universite de Quebec a Montreal (UQAM), who suggested Dan take the step to go back to school,  He packed his bags and left for the Ontario College of Art and Design (OCAD) in 1989.
"They were instrumental, he (Ivan) was specifically, for getting me geared up for etching and painting. Ivan saw collage and drawings that I was doing and he taught me etching in his studio in Montreal and I did my first etchings there and I still have the impressions and they set up a show in his studio and it took off from there."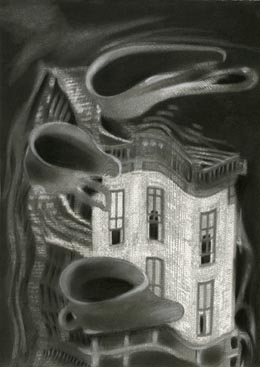 From OCAD, Dan went to NSCAD where he graduated with a BFA in 1994. The following year he began teaching printmaking and drawing. He's been at NSCAD ever since.His fine art career is an eclectic melange of numerous awards, grants and exhibits. His CV showcases such accomplishments as the Nova Scotia Creative Leadership Council Established Artist Recognition Award, the Nova Scotia Arts Council Creation Production Grant for Blue Eatonia a suite of lithographs, as well as a major purchase by Mount Saint Vincent University Art Gallery for his lithograph, the Miserere Crucifragment Installation.
"You don't know where you're going to go, and I didn't, I had no idea and I was 35 when I started at OCAD.  You would think by that time I'd be paying into a pension and looking forward to freedom 55, now I'm just 59 and I'll probably drop at the press doing a rainbow roll," he said with a laugh.
It's clear when talking with Dan that everything he does is rooted in the journey of personal and creative growth, and of becoming.
"Some voices, if you want to call them that, answer to print, some to collage, some to writing, and some to drawing, the multifaceted self is invested in discovering itself and it's not achievement, it's about growth. Achievement is a by product perhaps: accolades, awards, grants, purchases, collections but how you become is central to how I feel about why I want to be this way."
As an artist Dan has set rules that reflect who he is. He hopes to pass similar life skills onto his students.
He said,  "I just want us all to be caring, communal, forward moving, and growth oriented.  Let's see what you do across time."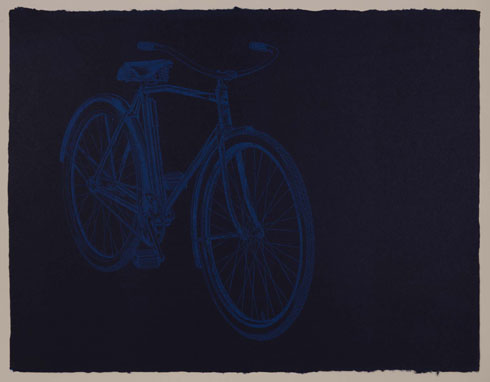 Speaking of time, it seems there are plenty of ideas to explore and not enough time.
"I've a best-before date, I'm not going sour in the back of the fridge, and I want to get it all out. I made it possible for myself, and I acknowledge those here at NSCAD that make it possible for me to continue," he said.
"My biggest goal is just to be able to take a last breath and be good with it."
Dan is currently working on finishing the last of his series of paintball lithographs. Later this year he will have six drawings of his published by Shift Fox Press to compliment William Saroyan's short story, Tracy's Tiger.