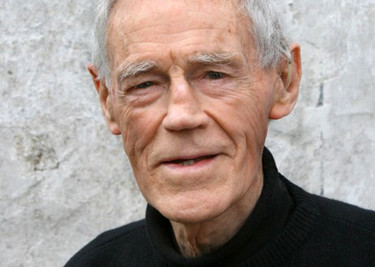 Anthony (Tony) Mann, 85, passed away April 19, 2013, in Ashreigney, Devon, England, following a brief illness. Born on October 18, 1927 in Rotherham, Lancashire, United Kingdom, he was the only child of Wing Commander James Mann and Olga (Newey) Mann. He lived in England and India throughout his childhood and early school years, returning to England and Manchester Grammar School after the war. Tony attended the Central School of Art and Design, London, England, from 1949-51 studying Industrial Design, and following graduation, worked as a product designer for GEC, England. He then became a freelance exhibition designer in London from 1951-62. One of his most important design projects during this time was for a major exhibition during the celebrations for Nigeria's independence in 1960 for which he was the principal exhibition designer and supervisor for fabrication and installation. He later also designed one of Libya's International Trade Fair exhibitions in Tripoli. It was during this time, that he also became very interested in the modern Swiss design movement, particularly print typography. Tony moved to Canada in 1962 and worked for the CBC briefly before being recruited by Cooper and Beatty in Toronto, Canada's leading typesetting and print company of the time. He worked there as creative director from 1962 to 65, and then together with two other eminent Canadian graphic designers, Rolf Harder and Ernst Roch, and with Al Faux, an industrial designer, established Design Collaborative in 1965.
Tony helped to bring the International Communication Design style to Canada. During this time, he was responsible for design of the Canadian Centennial symbol in 1967. Other work during his time in Toronto included product design with Al Faux for Clairtone's new G2 Stereo system and G-TV, both some of the first modern Canadian designs for the media industry.
In 1967/68, he was invited to Nova Scotia to start a dedicated Design Division and established, along with two colleagues Frank Fox and Horst Deppe, a new Design Program at the Nova Scotia College of Art and Design, Halifax. The program had its focus on Communication Design. He taught full time from 1967-76, and since he and his family moved back to England, Tony subsequently taught the fall term semester annually at the College from 1978 until his retirement from teaching in 1999. During his teaching career at the College, he was periodically Head of Design Division, taught hundreds of young designers and was also instrumental in 1971 with Robert Parker and William Smith, in helping to establish one of Canada's first Environmental Planning Programs at the College.
Tony, together with Bob Parker and Bill Smith were instrumental in saving the Granville Block with NSCAD's relocation to the Historic Properties in 1972. Together with his wife Barbara and others, he was a founding member of the Ecology Action Centre in 1971, and today it remains as Nova Scotia's vital grass roots environmental and sustainable solutions' organization. In the 1970s, he began to explore his interests in craft-based industry at a provincial and central government level. With a growing interest in folk traditions of toy making he later showed his own work at Studio 21 Fine Art in Halifax, one of Canada's important contemporary galleries.
In residence full time in Devon, England, Tony did advocacy work with the Devon Guild of Craftsmen to elevate craft to a serious undertaking, along with, but separate from art. His toy making and his automata (self operating toys) with their unique aesthetics have become legendary in Canada, the United Kingdom and Europe where he exhibited in many galleries and shows including the Medici Gallery, London, the OXO Tower, and the Bethnal Green Toy Museum, London, and also in France. He was awarded honorary memberships of the Devon Guild of Craftsman and the British Toymakers Guild. Tony was also appointed a Fellow in Graphic Design Canada (GDC), Canada's voice and resource for the graphic design profession.
He is survived by his wife, Barbara Mann (nee Sweetman), son Timothy Mann, daughter in-law Jo (nee Scutt) Mann, and two grandchildren, Oliver James Mann and Hamish Anthony Mann, who live in Te Anau, Fiordland, New Zealand, and a cousin, Dianne Payne (nee Sargeant), living in England.
Interment will be in Devon, England.