NSCAD is pleased to announce a new series of Research Talks at The Institute. Hosted by the Provost, these talks will give faculty an opportunity to discuss their academic and creative research.
Due to unforeseen circumstances, the Research Talk on February 28 with Dr. Julie Hollenback and Nora Renick Rinehart has been postponed. More information to follow.
The Institute, 1871 Granville Street
Dr. Julie Hollenbach and Assistant Professor Nora Renick Rinehart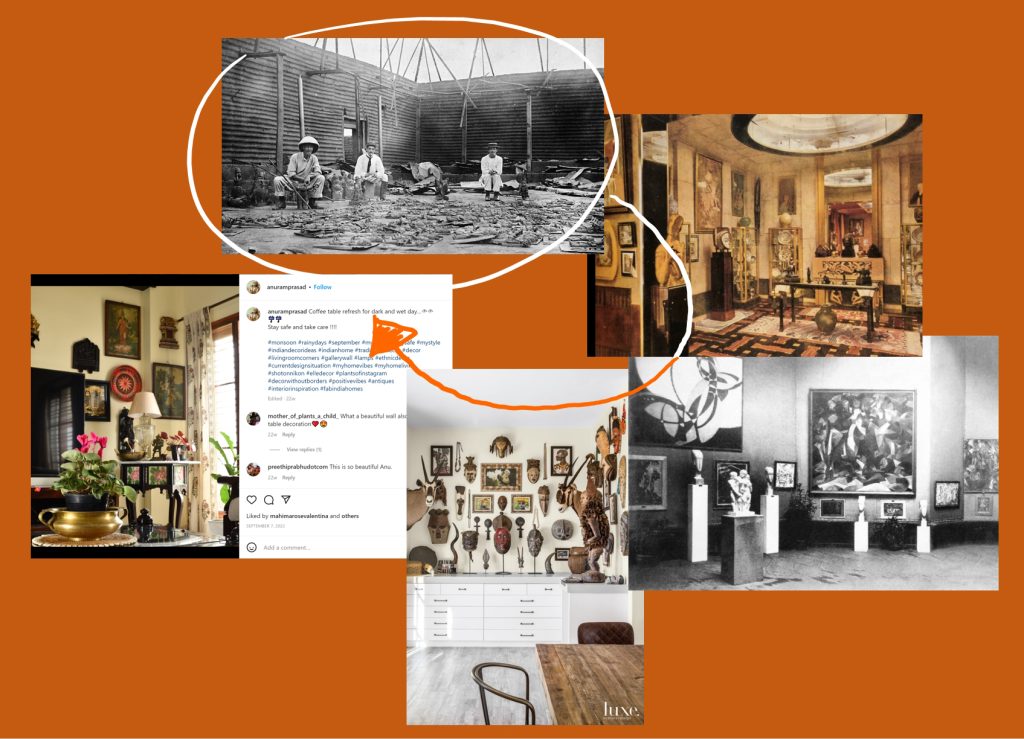 This image is a research collage of five smaller images arranged in a circle set against a rust orange ground. The first black and white image at the top shows a 19th-century archeological site in northern Africa; the next colour image to the right shows the domestic interior/salon of Parisian collector Jacques Doucet in the 1930s; the next black and white image shows an early twentieth-century installation shot in a white cube gallery featuring cubist sculptures and paintings; the next colour image is a page from Luxe magazine showing a modernist interior featuring many wooden carved masks and sculptures; the final image is a screen grab of an Instagram post featuring an image of someone's revamped living room with an assortment of "eclectic" objects.
Dr. Julie Hollenbach: "Research in Progress Talk: The Colonial Imperative in the Design and Display of Art Deco Furniture and the Implications Today." In this work-in-progress presentation, Julie will share ongoing research that examines the impact of 19th-early 20th-century imperialism and colonialism on the design and consumption of Euro-American decorative arts. This research project is a discourse analysis that examines how colonialism is obfuscated from the historicization and display of Art Deco over the last hundred years, and how the contemporary a-political presentation of "eclectic" Art Deco objects in history books and museum spaces impacts present-day consumer habits and practices of domesticity in troubling ways.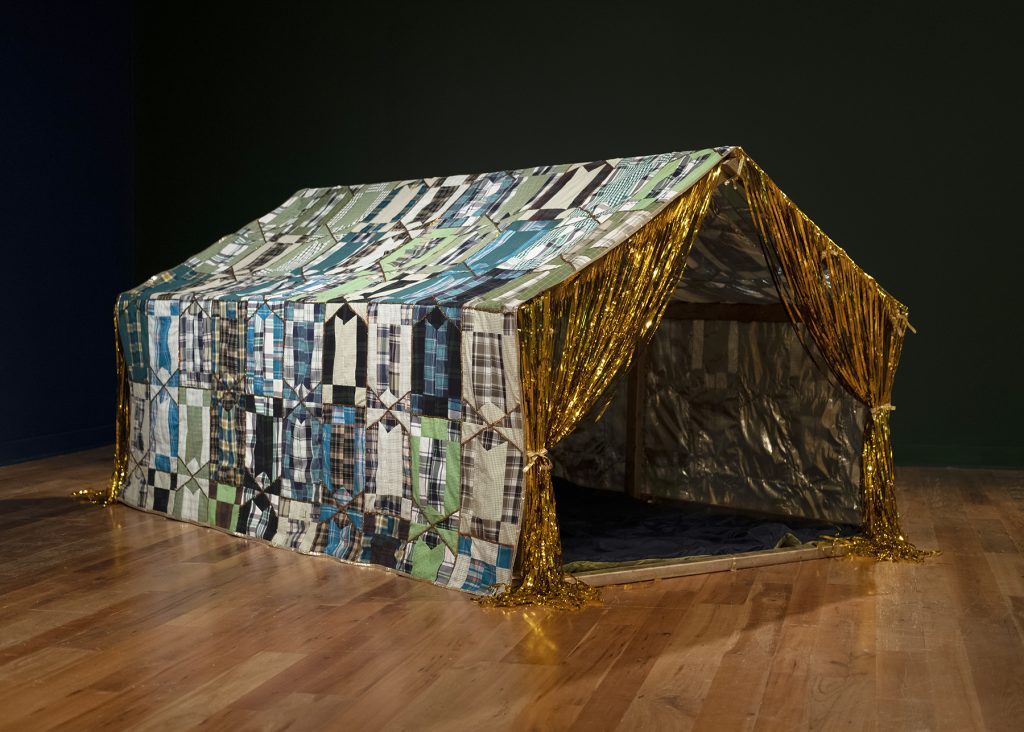 Nora Renick Rinehart
Reflect
8′ x 5′ x 4′. Mixed media. 2022.
Wood, recycled flannel shirts, lamé, machine stitching, sequins, tinsel curtain, sleeping bags, flashlights.
Nora Renick Rinehart is a new Assistant Professor in NSCAD's Textiles department. With a BFA in Fibers from Maryland Institute College of Art and an MFA from the University of Wisconsin-Madison, Nora has spent over 15 years working in various textiles-related jobs. Her current body of work utilizes the structure of summer camp and the language of queer camp in fashion to explore queerness, coming of age, and community through textile sculpture and interactive events. Camp Camp asks: in what ways can galleries—similar to summer camps in that they exist outside of everyday life—function as places of learning through play? By creating a space that acts as an environmental fantasy and a reimagining of what queer joy could bring to childhood, Camp Camp throws a party to which everyone is invited.