K'jipuktuk/Halifax (May 7, 2021) – NSCAD University is pleased to announce that it has selected Moriyama and Teshima Architects to lead its $15 million Port Campus revitalization project. Moriyama and Teshima was the successful proponent among 12 respondents to the request for proposals NSCAD issued in early March. The award-winning firm has an extensive project portfolio in Canada and internationally that includes museums and art galleries, university buildings, libraries, and corporate and government headquarters.
Moriyama and Teshima, in collaboration with local firm Fathom Studio, will lead NSCAD through the plan and design of the transformational project that will optimize space utility, improve building accessibility and sustainability, and help create a rich, positive experience for all members of the academic community.
The project includes relocating approximately 30,000 square feet of teaching space from NSCAD's Fountain Campus on Granville street ahead of provincial legislation that will require all public spaces to be accessible by 2030. The university continues to consult with its faculty, staff, students and stakeholders on evolving space usage at the Port Campus related to the planned relocation of classes and studios from Fountain Campus. Feedback from this engagement will help inform the revitalization project's planning and design work.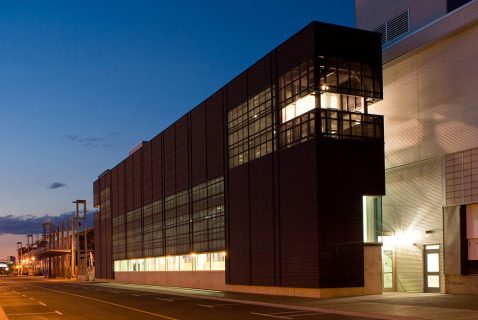 Moriyama and Teshima's design approach explores the history, needs and aspirations of the institutions it serves, celebrating the creative relationship between culture and nature while maintaining a sense of belonging and curiosity in the built environment.
"NSCAD's Academic Plan articulates a vision for the university in which the institution's creative, educational and social perspectives are not limited by the inventory of its buildings – where education and enterprise combine to propel innovation and economic redevelopment," said NSCAD Interim President Sarah McKinnon, PhD. "Moriyama and Teshima's undertaking of the Port Campus revitalization project is a significant step in this journey towards sustainability."
NSCAD has also decided to not pursue the potential with the Art Gallery of Nova Scotia (AGNS) to co-locate on the waterfront site following discussions with AGNS and Nova Scotia Labour and Advanced Education. The gallery's evolving building design and related space constraints on the site means it no longer meets the spatial and programmatic needs of the art school's vision for the future, as outlined in NSCAD's Academic Plan.
"Given our long history of mutual support for the arts and creative industries, NSCAD and the Art Gallery of Nova Scotia look forward to continued partnerships on programmatic and other collaborations that build on our common goals and responsibilities to our communities," said Dr. McKinnon.