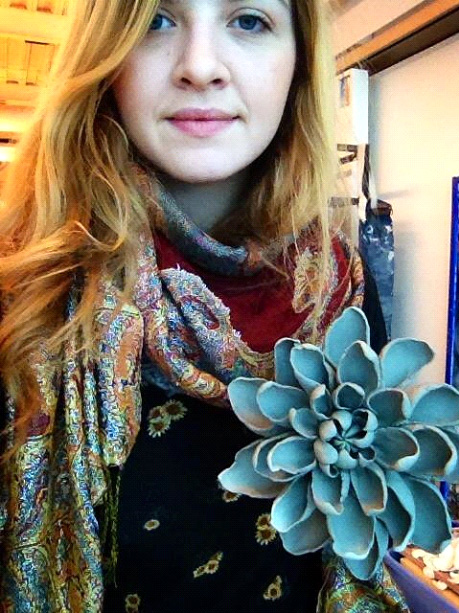 If Laura Jean Forrester sounds a little breathless, it's not because she's just run in from the garden to answer the phone (which she has). It's because she found out she just won the $10,000 RBC Art Competition.
"I'm a little lost for words," says the NSCAD student after a beat, reached at the family flower farm in North Rustico, PEI. "It was such a great process to go through, from the research stage to making a proposal and building an idea.  And now to have been given this showcase— I am grateful to RBC and the jury for selecting my submission.  Wow, it's very exciting for my career."
Laura's winning proposal for a clay sculpture entitled The Waterside Garden will be built over the summer. Once complete it will be displayed at the entrance to the bank's new retail store in RBC Waterside Centre. Situated directly across Hollis Street from NSCAD University's historic Granville campus, RBC Waterside Centre will also house the bank's Atlantic Provinces headquarters and other bank businesses that were previously located at 5161 George Street.
The RBC Public Art Competition was open to NSCAD students and recent graduates, with the aim of acquiring an artwork to celebrate the bank's move to RBC Waterside Centre. Twenty four submissions were reviewed by a jury comprised of Robin T. Anthony, art curator for RBC; Anthony Kawalski, artist/designer and arts educator;  Eleanor King, director of the Anna Leonowens Gallery at NSCAD University; Robin Metcalfe, director/curator of Saint Mary's University Art Gallery; and  Lori Smith, manager of Public Affairs for RBC Royal Bank. The art competition was coordinated through NSCAD's Office of University Relations.
"The jury was incredibly impressed with the high caliber of proposals received for the competition which speaks to the depth of talent in this region," says Lori Smith.  "Laura's work is very eye-catching and its three-dimensionality will suit the space really well and we are looking forward to proudly displaying it at the entrance to our new retail store."
Besides Laura, the other artists shortlisted and invited to submit more detailed proposals were Alexis Bulman (BFA 2013) and Alistair Rance (MFA 2010).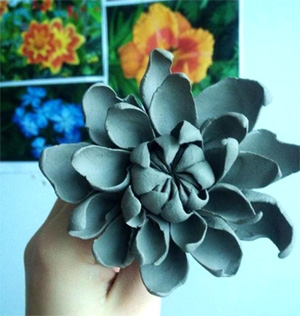 "When you're thinking about art and art creation, NSCAD of course always surfaces to the top," continues Lori.  "We've got a really great, longstanding relationship and knew they'd be great to work with."
Achieving the commission caps off a rich and rewarding educational experience at NSCAD for Laura. The PEI native remembers putting her hands in clay—and loving it—when she was eight years old enrolled in Pottery in the Park in Charlottetown. Arriving at NSCAD for Foundation year, she gravitated to ceramics again, but it wasn't until this past academic year that she started to create flowers and other natural things in clay.
"I guess I was a little homesick and making things that reminded me of my roots alleviated that a bit," says Laura. "I found it really satisfying to make flowers … I make each petal in the palm of my hand. You can see all the lines of my hand imprinted in the clay; each blossom is unique, like a fingerprint."
Over the summer, she has been busy setting up a studio with kilns and work tables in the barn of the family farm; her mother has a studio at the opposite end of the building. Construction of the sculpture will take place in her studio, with high-fire glazing at NSCAD University.
Laura's artwork will be unveiled at RBC Waterside Centre in mid September.