NSCAD University celebrates success. The 2007 Convocation Ceremony will take place at the Cunard Centre, 961 Marginal Road, at 2:00 p.m., Sunday, April 22, 2007.
NSCAD's Spring 2007 Convocation ceremony will honour 198 graduating students, Sunday, April 22 at 2:00 p.m. Doctor of Fine Arts degrees, honoris causa, will be presented to well-known feminist art critic, author, and theorist Lucy R. Lippard and internationally-renowned artist AA Bronson. NSCAD alumna Robin Claire McCullough will receive the Governor General's Silver Academic Award and graduating student Jodi Bucholtz will deliver the valedictory address.
Honorary Degree Recipient AA Bronson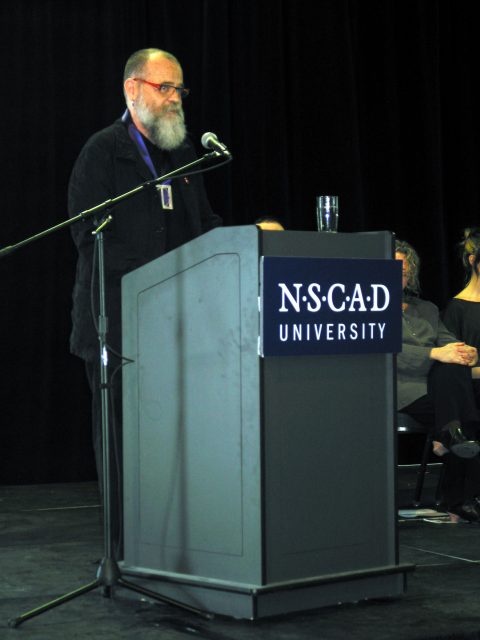 AA Bronson was born Michael Tims in Vancouver in 1946. He studied architecture at the University of Manitoba and became deeply involved in the counter-culture movement of the mid-sixties. In 1969, he formed the artists' group, General Idea, with Jorge Zontal and Felix Partz. The trio worked and lived together until 1994 when both Zontal and Partz died. Since that time, AA Bronson has continued to work and exhibit under his own name.
General Idea was a prolific, celebrated artists' group. During their time together, General Idea created an extensive body of work in a variety of media ranging from video, publishing and performance to installation, painting and sculpture. They exhibited internationally in 123 solo exhibitions and 149 group exhibitions. General Idea critiqued and parodied popular culture and challenged notions of artistic identity. In 1987, their focus shifted to addressing the AIDS crisis.
AA Bronson's solo art deals with survival, trauma, aging, death, and healing. He is known for work that sidesteps and melds traditional classifications, mixing performance, video, photography, sculpture and installation, often in ephemeral or transient ways. He has exhibited extensively in Canada, the U.S., and Europe.
Bronson is also a noted writer, publisher, lecturer and curator. He is currently the Director of Printed Matter, Inc., in New York City, and Visiting Critic at Yale University. In 2006 he curated the exhibition "I WILL NOT MAKE ANY MORE BORING ART: Lithographs, Publications and Ephemera from the Nova Scotia College of Art and Design."
AA Bronson has been honoured with numerous awards and grants including the Skowhegan Award (2006), OAAG Awards for best artist's book and best exhibition installation (2004), The Chalmers Fellowship (2003), the Governor General's Visual Arts and Media Award (2002), and the Bell Canada Award in Video Art (2001).
Honorary Degree Recipient Lucy R. Lippard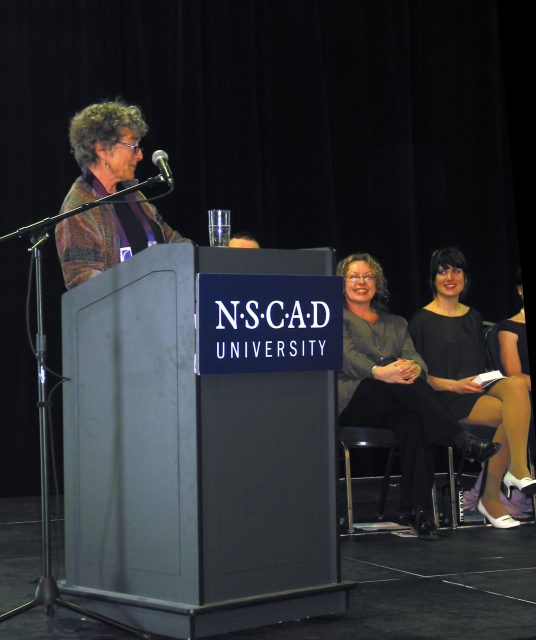 Lucy R. Lippard was born in New York City in 1937. Lippard graduated from Smith College in 1958 and received her MA in Art History from the New York Institute of Fine Arts in 1962. Currently, she is a Research Associate at the Museum of Indian Arts and Culture/Laboratory of Anthropology in Santa Fe, New Mexico. She recently received a Lannan Foundation Completion Grant for a book on the Galisteo Basin, where she lives.
Lippard is a leading feminist writer, activist and art critic. She has authored twenty books on contemporary art and cultural criticism, including one novel, I See/You Mean. In 2002 she shared with co-authors a Southwest Book Award for Nuevo Mexico Profundo.
During her prolific career, Lippard has curated more than fifty exhibitions in the United States, Europe and Latin America and has been a visiting professor at numerous universities. She has written regular columns on art and politics for the Village Voice, In These Times and Z Magazine, and is a contributing editor of Art in America.
For thirty years, Lippard has worked with artists' groups such as the Artworkers' Coalition, Ad Hoc Women Artists, and the Alliance for Cultural Democracy. She was co-founder of Printed Matter, The Heresies Collective and its journal, PADD (Political Art Documentation/Distribution) and its journal Upfront, and Artists Call Against U.S. Intervention in Central America.
Lippard's work has earned her many honours including a Guggenheim Fellowship, the Frank Jewett Award for Criticism from the College Art Association, two National Endowment for the Arts grants in criticism, the Smith College Medal, the ArtTable Award for Distinguished Service to the Visual Arts, and the Athena award (RISD) for excellence in art criticism. She holds honourary doctorates from the Art Institute of Chicago, Moore College of Art, the San Franciso Art Institute, the Maine College of Art, and the Massachussetts College of Art.
Governor General's Silver Academic Award Recipient
Robin Claire McCullough graduated from NSCAD on April 22, 2006 with a Bachelor of Fine Arts, Major in Media Arts degree. She grew up in Killaloe, Ontario and began her post-secondary studies at Trent University, where she completed the Bachelor of Arts in Cultural Studies degree program in 2000. Robin has worked in the reforestation industry in Northern Ontario since 1996. Her work experiences in the wilderness have influenced her art, and many of her photography, video, and installation projects have focused on the natural environment as well as resource conservation and exploitation. While attending NSCAD, Robin won several internal scholarships including the Glenn Rodgerson Memorial Bursary, the MacKenzie Fund Scholarship, two Endownment Fund Scholarships, a Centennial Scholarship and the TD Friends of the Environment Scholarship. Robin has shown her work at EMMEDIA Gallery in Calgary, Alberta, and at Eyelevel Gallery, Viewpoint Gallery, and the Dalhousie Art Gallery.
Presently, Robin is teaching a course in video production in the Continuing Studies Department at NSCAD. She also is working on editing "Notes from the Field," a feature-length documentary shot between May and September of 2006 while she was working within the silviculture industry. Robin has applied to continue her studies at the School of Graduate Studies at York University, focusing on the practices of looking as they surround contemporary art and cultural production. She hopes to establish professional opportunities to curate and instruct, while maintaining her practice as a video, photography, and installation-based artist.
Valedictorian
Jodi Bucholtz will graduate Sunday with a Bachelor of Fine Arts, Major in Photography. Jodi's artistic content often addresses the breaking of stereotypes and questioning social behaviour. During her time at NSCAD, Jodi has won numerous scholarships and bursaries while working as a student technician and teaching high school workshops through NSCAD's Continuing Studies Department. She was selected by her peers as this year's valedictorian.