A recent NSCAD graduate, Carley Mullaly is studying for a master's degree in Woven Textiles at the Royal College of Art in London, England. She is a winner of one of two $10,000 scholarships awarded by Nova Scotia Talent Trust in recognition of her "commitment, promise, exceptional technique, talent and the highest achievement of excellence, (and) demonstrates the passion and drive to become a professional Nova Scotia artist in their field of discipline."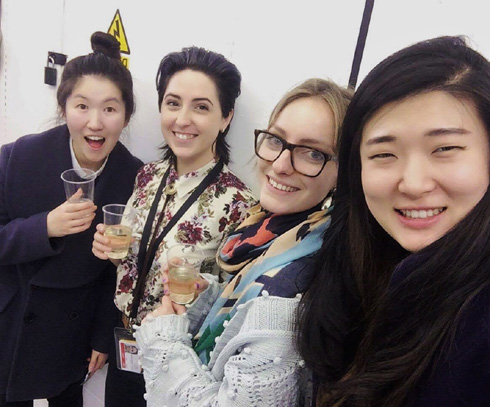 From New Glasgow, NS, Carley (BFA 2016) took advantage of everything NSCAD had to offer during her undergraduate education, including its exchange program and the chance to learn from the exceptional artists on faculty including Sandra Brownlee and Toshiko Macadam.
After taking part in her first exhibition at RCA, Carley took some time to reflect on her studies and what brought her there. Her thoughts:
***
"Our first exhibition is called the Work In Progress (WIP) Exhibition, where all the students in the School of Materials at the RCA display the projects they've either completed first semester or their current works in progress. I've been working on a process that I discovered in my last few weeks as a NSCAD student, where I knit sections of woven textiles to alter the shape and proprieties of the fabric.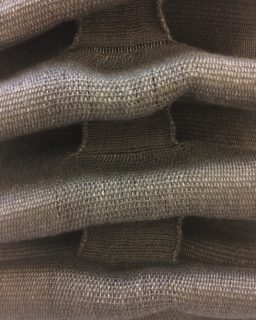 When I first arrived here I was worried that I wouldn't have as much experience as my peers since NSCAD has a broad range of textiles courses and I only chose to focus on weaving in my last year of my BFA. However, during my first semester here I was able to incorporate crochet, knitting, mixed media techniques and many other textile processes that I had learned throughout my time at NSCAD. Since this is an MA it is much more independent and you can choose to work in many different methods with guidance from several tutors. I believe that studying at NSCAD allowed me to have several techniques under my belt. NSCAD also fostered different creative ideas that encompass both Fine Art and Craft.
When I was studying at NSCAD there was a point where I was confused about what path I wanted to pursue. Before starting university, I believed I wanted to study fashion, since I knew I wanted to work with fabrics and soft materials. I eventually realized I was becoming less interested in fashion and more interested in creating my own fabrics. But I also wanted to see what these textiles could eventually be used for, be it in a gallery context, furniture or wearable art.
After looking through other universities courses that were offered through the exchange program, I decided to spend a semester at the University of the Arts in Philadelphia, PA. Its program was labeled "Fibers," as opposed to "Textiles," and it was viewed in a completely different manner from NSCAD. We did workshops on upholstery, showed in several exhibitions and had access to many museums and galleries throughout Philadelphia and even New York. Studying abroad gave me a new viewpoint on textiles and helped me realize what it was that interested me. Fashion wasn't necessarily my only option. When I returned to NSCAD, I focused specifically on weaving and colour exploration and eventually discovered I had even more ideas brewing. That led me to apply for my MA.
Something that has always been a source of inspiration throughout my studies has been other artists' work processes. While studying at NSCAD I was lucky enough to work for Sandra Brownlee and learned a great deal from her, and she introduced me to many other amazing artists. She even invited me to work as her assistant at the Haystack School of Craft in Maine in the summer of 2015. Sandra also recommended me to work for Toshiko and Charles MacAdam in Bridgetown, which was an absolutely life-changing experience. While working there I learned a great deal about different textile and creative processes that I try to incorporate into my own work.
I think it's important for students to take every opportunity to explore new ideas and ways of making, be it through an exchange, an internship or job related to their field. Having these experiences broadened my creativity and knowledge, and each experience led me to yet another.
It's been said time and time again but the connections you make during your studies have the potential to affect your future endeavors so try to take advantage of any opportunity offered to you!"