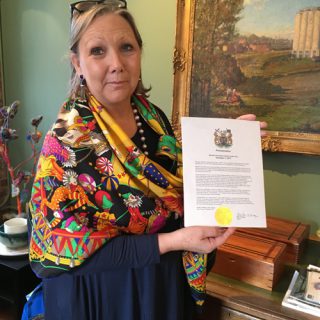 Whereas, NSCAD University founded in 1887 is one of Canada's most renowned universities specializing in art, craft and design education and is celebrating its 130th anniversary:
NSCAD University alumni were significant contributors to the Venice Biennale, NSCAD was the leading institution for Culture Days on September 30th and provides significant leadership in the cultural sector both locally and internationally welcoming creative students from across Canada and around the world and:
As the premiere fine arts, craft and design degree granting institution east of Montreal, NSCAD will be hosting the International Association of Fine Arts Deans, the Canadian Association of Fine Arts Deans, a 2RU (Alliance for the Arts in Research Universities) and the Association of Independent Colleges of Art and Design, October 18-21. Innovative light projects will be on display at the three galleries as well as HRM public spaces including City Hall, the Public Gardens and the old library building and:
NSCAD has developed a minor in Indigenous Studies. On October 2, NSCAD dedicated the Treaty Education Space at the Port Campus in response to the Truth and Reconciliation Commission with Dr. Heidi Bohaker. This Treaty Education Space will assist in reconnecting communities with their cultural heritage.
THEREFORE, be it resolved that I, Mayor Mike Savage, on behalf of the Halifax Regional Council, do hereby proclaim October 3rd, 2017 as NSCAD University Cultural Leader Day. Congratulations to NSCAD University on their 130th anniversary and their cultural leadership in the community and for this welcome initiative to assist in opening the dialogue as recommended by the Truth and Reconciliation Commission.
Dated at Halifax, Nova Scotia
this 3rd day of October 2017