NSCAD is saddened by the passing of Harold Pearse, Professor Emeritus and former Dean of Academics.
Harold passed away in Lunenburg, NS, on March 28. An accomplished and respected visual artist and educator, Harold delivered numerous solo and group exhibitions in public and commercial galleries. He was also commissioned for art in public buildings and art work (oil and acrylic paintings, drawings, prints, mixed media) in public and private collections. Throughout his career, Harold curated a number of exhibitions for public art galleries and wrote essays for exhibition catalogs.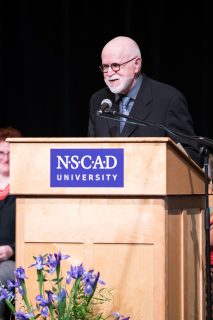 From 1971 to 2001 Harold was a Professor of Art Education at NSCAD, and between 1995 and 1999 he served as Associate Dean (Academic). His long-standing commitment to NSCAD was cemented by his co-authoring of The First Hundred Years: A History of the Nova Scotia College of Art and Design in 1992.
"Over his 30 years at NSCAD, Harold's professional guidance to faculty, staff and students, both undergraduate and graduate, was exemplary," said Bruce Barber, retired NSCAD professor who worked alongside Harold. "He encouraged colleagues and students to volunteer in the community. His door was always open to faculty, staff and students from across NSCAD. I personally benefitted greatly from Harold's example and mentorship over the years and his insistence on advancing NSCAD into the community, including the African Nova Scotia and Indigenous communities. His concern for equity, responsive and responsible governance is embedded in many of our institutional documents."
Harold mentored countless individuals during his time at NSCAD, and his presence at the university continues to be felt today.
"He presented material in a way that felt more like he was sharing rather than lecturing," said Karen Stentaford, Assistant Professor of Photography, Mount Allison University, a former student of Harold's who graduated in 2002. "I remember him treating everyone the same and he embraced and respected all of our ways of working."
NSCAD students knew that even after they graduated, Harold's mentorship would continue, no matter the distance between them.
"I kept in touch with Harold over the years and am eternally grateful for his mentorship. I will miss the wisdom shared during our side coffee and breakfasts at conferences. There is a giant hole in the collective Canadian art education heart," said Renee Jackson, Assistant Professor of Art Education at Temple University Tyler School of Art and Architecture, and a student of Harold's at NSCAD, graduating in 2002.
His opinion and expertise were in high demand, as he authored numerous articles and chapters on various aspects of art education for Canadian and international professional journals and anthologies. He served as Editor of the Journal of Social Theory and Art Education (1990-1992) and was the Director of Publications for the Canadian Society for Education through Art (CSEA).
Harold began his career as an art educator at Richmond (BC) High School, before going on to instruct at NSCAD and later, the University of Alberta. He had more than 50 years of experience teaching art at the public school and post-secondary levels. In 2011, he was named the Canadian Society for Education through Art's Post-Secondary Art Educator of the Year, and in 2012 received the University of Alberta Faculty of Education Sessional Teaching Award.
Harold retired to Lunenburg in 2015, where he continued to teach and inspire artists. A celebration of his life will be held in Lunenburg at a later date. To share memories of Harold with his family and friends, visit https://www.sweenyfuneralhome.ca/book-of-memories/4144136/Pearse–Dr-Harold-/index.php.