From a member of the NSCAD faculty, Sara Hartland-Rowe: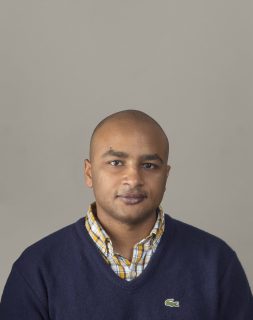 The NSCAD community is grieving the loss of a beloved student, artist and friend, Teto (Tirhaga) Elsiddique (1982-2017), Teto the Veracious. His family name is an honorific, just as readily applied to Teto's own life.
Teto's student years at NSCAD (BFA 2013) were marked by his brilliance, inventiveness and commitment to his work. He eschewed familiar ways of making paintings in favour of processes that allowed him to bring together detritus, odd signifiers, constructed objects, and paint skins in an effort to describe his experience powerfully and succinctly, with neither sentimentality nor banality.
As well as his inspiring art-making, Teto was a generous member of the NSCAD community. He volunteered for many university events, and taught teen art classes for NSCAD's School of Extended Studies.  He was a most reliable assistant to Painting Technician, Jeremy Vaughan, and was valued for his tireless commitment to the Department. In the Halifax arts community, Teto worked with Renée Forestall's Team Possibles and contributed to the City of Halifax by leading mural projects in the city for groups of at-risk youth.
Teto went on to graduate studies at Yale. He was singled out by one visiting critic as a young artist of exceptional promise, an evaluation agreed upon by the faculty when he was awarded the Rema Hort Mann Foundation Emerging Artist Grant and the Ralph Meyer Prize. Upon graduating, he applied for and won the Virginia Commonwealth Fellowship, a highly coveted award open to all graduating MFA students in the US.
Teto taught at Virginia Commonwealth University, where he was an inspiring and beloved teacher. His assignments show his imaginative prompts to students, his kindness and respect, and show, too, the searing honesty he asked of his students and that he levied at himself. He was urged to apply for a full-time tenured position at the University, a testimony to his success as instructor and colleague, but decided he needed to focus on his work. Teto moved to New York in 2017.
Teto's exhibitions include recent solo shows in New York and Richmond, Virginia, and participation in prestigious group shows in Canada and the US, including the 2017 RBC Canadian Painting Competition exhibition at the National Gallery of Canada, in which his work was singled out with an honourable mention.
Teto's work was rich, varied, and brilliant. Whether taking the form of video installation, performance, or painting, one finds a tireless effort to describe the way in which history, culture, pain, danger, excitement and love shape one's existence. There is directness without simplicity, and beauty without frills in Teto's work – it is as deep, insightful, and honest as Teto himself.
In addition to the honorific 'veracious', his friends must find ways of honouring his great and loving heart. Teto was true and loyal to his many friends, and an inspiration to them, his students and his teachers. He is an unforgettable man.