It's an art exhibition the likes of which Halifax has never seen.
//Responsive: International Light Art Project Halifax is an exhibition of light projects taking place in and out of doors over four evenings, October 18, 19, 20, 21. Artists from Germany, Russia, Tunisia, the United States and Canada are creating 11 projects throughout the city—creating work in response to various sites, including the old Halifax Memorial Library, the Public Gardens and the Dalhousie School of Architecture.
"This exhibition is unprecedented for the city," says Peter Dykhuis, director of Dalhousie Art Gallery. He is one of three local curators for //Responsive along with Melanie Colosimo, director of the Anna Leonowens Gallery, and Sarah Fillmore, chief curator at the Art Gallery of Nova Scotia. "The artists are dealing with light as material and light as subject matter in an exhibition that is highly curated."
Guided tours from Art Bar
"In Halifax, you can never be sure of the weather," says Colosimo. "Whether we get fog, drizzle, or a beautiful fall night, people can return to the work and see it differently."
//Responsive comes alive in the night. Exhibitions will be free to the public from 7 pm to midnight. There will be docents at each location, and guided tours will start from NSCAD's Art Bar +Projects.
"It's a multi-evening exhibition, not a marathon," says Colosimo.
In 2018, //Responsive will take place in Cologne, Germany, then returning to Halifax in 2019.
Why Cologne? Dykhuis relates how he took a call "out of the blue" from a German curator. Dr. Ralf Seippel, a gallery owner in Cologne, was interested in creating a project that would link Nova Scotia and Germany. Jürgen Probst, a colleague of Seippel who divides his time between Antigonish and Cologne, was enthusiastic about funding an 'art bridge' between Halifax and Cologne.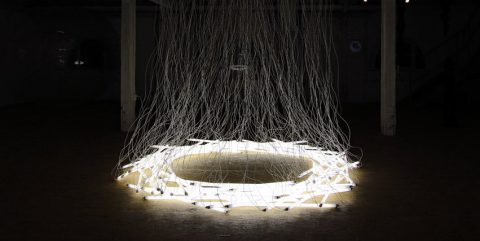 Collaborators not competitors
From there, Dykhuis got in touch with Colosimo and Fillmore. By reaching out to NSCAD and the AGNS, he says, "we could collaborate to make something bigger happen." Bettina Pelz, from Germany, is also part of the curatorial team, serving as artistic director for //Responsive.
"We've got an interesting city, an historic city, a city that is walkable," says Dykhuis. "There's kind of a European DNA to this place and that made it attractive to our German collaborators."
The Halifax partners gratefully acknowledge the financial support of Probst & Partner Investments Ltd. of Antigonish, Nova Scotia as Presenting Sponsors, and Supporting Sponsorship from the Halifax Regional Municipality.
—
About //Responsive: International Light Art Project Halifax
WHEN: October 18 – 21, 7 pm to midnight
WHERE: Anna Leonowens Gallery, Halifax City Hall, Art Gallery of Nova Scotia, St. David's Church, Halifax Memorial Library, Dalhousie School of Architecture, Halifax Public Gardens.
WHO: Annica Cuppetelli & Cristobal Mendoza (United States); Houda Ghorbel & Wadi Mhiri (Tunisia); Eva-Marie Joeressen & Klaus Kessner (Germany); Ursula Handleigh, MFA 2017, (Canada); Detlef Hartung & Georg Trenz (Germany); Mischa Kuball (Germany); Duane Linklater (Canada); Kelly Mark, BFA 1994 (Canada); Vladimir Kuzmin & Ursula Molitor (Russia); Judith Roeder (Germany); Kurt Laurenz Theinert (Germany). Curated by Melanie Colosimo, director, Anna Leonowens Gallery; Peter Dykhuis, director, Dalhousie Art Gallery; Sarah Fillmore, chief curator, Art Gallery of Nova Scotia; Bettina Pelz, artistic directorl Ralf Seippel, Art Gallery Seippel.
HOW MUCH: Free!