Halifax, NS – More than a dozen local and international artists are presenting an exhibition of indoor and outdoor light art installations across downtown Halifax this week, including three graduates of NSCAD University.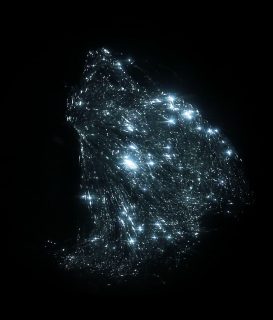 NSCAD is a proud partner of the Responsive International Light Art Project, a bold and contemporary venture that highlights architecture and public space through the medium of light. The exhibition, curated by Melanie Colosimo, Peter Dykhuis and Frankie Macaulay, will light up downtown from Wednesday, September 25 to Saturday, September 28.
"Responsive is an exciting opportunity for artists to explore light art, while bringing together the entire art community in a unique and dynamic setting," said Dr. Aoife Mac Namara, President, NSCAD University.  "We are thrilled to have NSCAD students and graduates taking part in this project. The skills they developed at NSCAD will be on display alongside artists from around the world. We welcome everyone to attend – it really is something to see."
Alan Syliboy and Lukas Pearse are the NSCAD graduates taking part in Responsive. NSCAD's Digital Projects class, led by Professor David Clark, will also get in on the action during Responsive, taking over the Art Bar +Projects during the four-day event. The piece will be a collaborative installation involving light, projection, and sound.
Syliboy and Pearce are members of the band Alan Syliboy and the Thundermakers. They will present a projection mapping in the courtyard of the Art Gallery of Nova Scotia that details the evolution of Syliboy's artwork. This will be accompanied by an audio component, as well as a performance from the band at the end of the evening's projections.
Close to 130 students from St. Joseph's-Alexander McKay Elementary in Halifax's North End will take part in Responsive, as part of Marek Radke's presentation. Radke, a Poland-born artist currently living and working in Germany, will include the students in 'Another Unknown World'. Using disposable plastic items like bottles, yogourt packaging, laundry containers and so on, Radke and the students repurpose these objects to create a new world. Following Radke's lead, participants deconstruct or build upon the recyclables to create new other worldly objects with glue, paper maché and neon, fluorescent colours that will glow in the installation.
"This is a wonderful opportunity to show our students, first-hand, the wonders and excitement of art," said Nakeah Young, a grade three teacher at St. Joseph's-Alexander McKay Elementary. "We want to thank Mr. Radke for including our students in his work. His presentation combines the essential aspects of play and creativity, two popular themes with any elementary school student."
Responsive officially kicks off tomorrow (September 25), with events running between 7 p.m. and 12 a.m. through Saturday.
An interactive app, Otocast, is available for download to provide event-goers with their own guided tour. A complete schedule, a list of artists taking part, and more information are available at Responsive-halifax.com.
-30-
Media Contact:
Darcy MacRae
Communications Coordinator
NSCAD University
92-579-4393
dmacrae@nscad.ca