Sandra Brownlee, a NSCAD alumna and part-time faculty member in Textiles/Fashion, is the winner of the 2014 Saidye Bronfman Award for fine craft. The announcement of the 2014 Governor General's award winners was made today at the TIFF Lightbox in Toronto.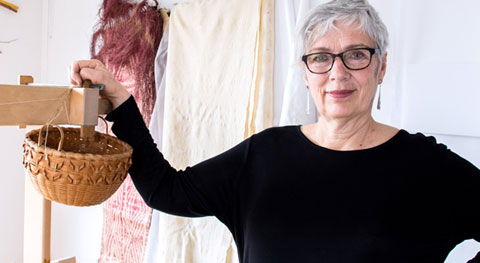 Having known about the honor since October, she's relieved it's no longer a secret. "Now that it's out, I feel challenged to live up to this award. I'm also very touched," she says.
Sandra (BEd, BFA 1971) is a weaver, notebook keeper and teacher who lives in Dartmouth. Some of the classes she has taught recently at NSCAD include "Tactile Notebooks and the Written Word" and "Mark-Making at the Loom."
"I think of my weaving as a blend of weaving, drawing and handwriting. I tend to restrict myself to a palette of black and white. When I'm weaving I'm always inventing, improvising, making a mark, then seeing and responding. It's so rich for me."
The 65-year-old artist has been "drawing" and "writing" her thoughts and ideas for more than 40 years. She uses tiny stitches, simple materials and tools.
She attended NSCAD during the late 1960s, graduating in 1971. She recalls the experience as being very exciting, bumping into visiting artists or watching them work in the famed lithographic studio, while mastering her own work at the loom.
"I learned the basics but then was free to build on them in a very quiet way," she says. "NSCAD gave me the space to grow and to bond strongly with my process and find my connection to it."
"She takes a very painterly approach to weaving," says Susan Hanrahan, executive director of the Nova Scotia Designer Crafts Council, who calls her work "authentic, powerful, honest, sensitive, and joyful."
"It's almost from her subconscious as she sits down to her loom to work," she adds.
Previous NSCAD winners of the Saidye Bronfman Award include metalsmith Kye-Yeon Son in 2011 and ceramicist Walter Ostrom in 2003. NSCAD Professor Jan Peacock won a 2012 Governor General's Award in Visual and Media Arts.
NSCAD professor Frances Dorsey, also a weaver, says Sandra is known at NSCAD, not only for her interesting work but for her inspiring teaching. "Students often describe the experience of being in her class as life changing."
"We're just absolutely thrilled for her," she adds. "It's wonderful to see such meaningful recognition for her work. It's hard to think of an artist more deserving."
Other winners of the 2014 Governor General's Awards in Visual and Media Arts are:
–    Kim Adams, sculptor, Toronto
–    Max Dean, multidisciplinary visual artist, Toronto
–    Raymond Gervais, performance and installation artist, Montreal
–    Angela Grauerholz, photographer/visual artist, Montreal
–    Jayce Salloum, media artist, Vancouver
–    Brydon Smith, curator, Ottawa
–    Carol Wainio, painter, Ottawa
The winners will receive their awards from Governor General David Johnston at a ceremony March 26 at Rideau Hall in Ottawa. Selected artworks by the winners will be on view during a special exhibition March 28 to July 6 at the National Gallery of Canada.
Sandra's work can also be seen in the traveling textiles exhibition, Innovators and Legends, now at the University Art Museum at Colorado State University. She has a solo exhibition coming up in May at the David Kaye Gallery in Toronto.