NSCAD Lithography Workshop: Contemporary Editions welcomes Toronto based artist Shary Boyle as the 5th participating artist in the Litho Workshop revival. Shary will be presenting her work at the Halifax Central Library on June 27 at 6:00pm. The event is free and all are welcome to attend!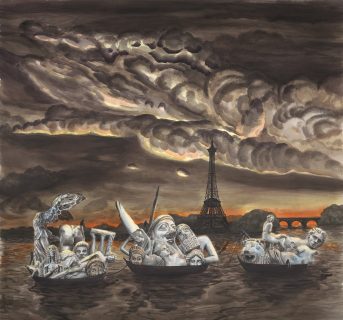 Shary Boyle lives in Toronto and works across diverse media, including sculpture, drawing, installation and performance. She is known for her bold, fantastical explorations of the figure and boundary-crossing collaborative projects. Highly crafted and deeply imaginative, her multi-disciplinary practice mines the social history of porcelain figurines, animist mythologies and folk art forms to create a symbolic, politically charged language uniquely her own. Collected and exhibited internationally, Boyle represented Canada with her project Music for Silence at the Venice Biennale in 2013.
Shary Boyle's work has been featured in The Illuminations Project with Emily Vey Duke at the Art Gallery of Nova Scotia (2018), EARTHLINGS, the nationally touring group exhibition she co-curated with the Esker Foundation (2017-18), South Korea's Gyeonggi International Ceramic Biennale (2017), and the Phaidon, UK publication Vitamin C: Clay and Ceramic in Contemporary Art (2017). Her first public art commission will be installed Spring 2018 on the front grounds of the Gardiner Ceramic Museum in Toronto.