With the Nova Scotia filmmaking industry currently in flux, it seems a bittersweet time for a critical history of filmmaking in Atlantic Canada to come out. But then all the better to appreciate the fertile scene that was took root on rocky shores starting in the 1970s.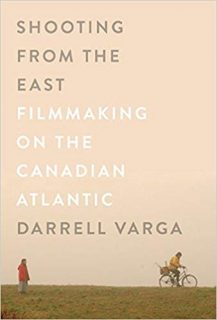 Shooting from the East: Filmmaking on the Canadian Atlantic by Dr. Darrell Varga is a comprehensive history of Canadian film and TV production in the four Atlantic provinces. The book was informally introduced at Universities Art Association of Canada conference held at NSCAD last November and subsequently launched at the TIFF Lightbox in Toronto and Carbon Arc Cinema, the only independent cinema in Halifax.
"Today, everyone's phone is like a production studio, but in the 1970s, 35-mm filmmaking was rare. The expertise was not there," says Dr. Varga, associate professor at NSCAD.
Through production cooperatives, filmmakers shared equipment and expertise and built infrastructure. At the same time, they explored ideas about what it means to make films that are grounded to a place. The first wave of Atlantic filmmakers was driven to tell stories reflected by where they lived. Auteurs such as Bill MacGillivray in Nova Scotia and Mike and Andy Jones in Newfoundland made films "that couldn't possibly be made anywhere else," says Dr. Varga. Films told with imaginative complexity such as MacGillivray's Life Classes and the Jones brothers' The Adventures of Faustus Bidgood "delve deep into the character of the place."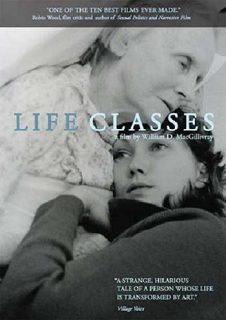 NSCAD, then without a film program, was nevertheless an incubator for early success. NSCAD attracted major artists to work with students, including the legendary photographer and filmmaker Robert Frank, awarded an honorary degree by the university last year. Frank, with his declaration that there are no rules, inspired founding members of the Atlantic Filmmakers Cooperative (AFCOOP), based in Halifax. Frank also sold AFCOOP their first professional camera, the same one he used to shoot Cocksucker Blues, his infamous and rarely seen documentary about The Rolling Stones.
Frank's no-rules ethos made sense at a place like NSCAD, where artists are always pushing themselves and making do. Says Prof Varga: "It was permission: You do it yourself. You make it work. You pull it together. You don't have to be an industry. You'll see that ethic at work in so many filmmakers that studied or taught at NSCAD – Thom Fitzgerald, Andrea Dorfman, Helen Hill – and it's still present."
Throughout the book, Prof. Varga writes about many feature films, documentaries and TV series from the region, right up to The Disappeared (directed by Shandi Mitchell, 2012) and Heartbeat (directed by Andrea Dorfman, 2014), essentially art house films made in the context of a well-established industry. While comprehensive, the book is not encyclopedic: films are mentioned as they relate to recurring themes including landscape and environment, race, and First Nations.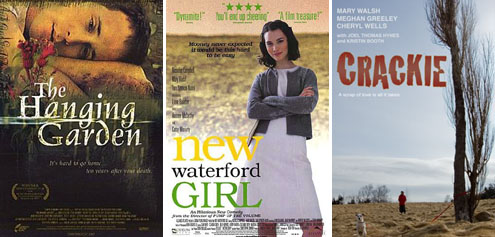 In advance of the book launch in Toronto, TIFF asked Dr. Varga for his list of "10 Films from Atlantic Canada Everyone Should See." In order of oldest to most recent, here's that list:
The Adventures of Faustus Bidgood (1986), directed by Andy Jones and Michael Jones. "A film unlike any other made in Canada: a Faustian bargain and wild ride through murder, jealousy, revolution, education, eternal life and a disappearing poet-premier."
Life Classes (1987), directed by William D. MacGillivray. "A young woman with a paint-by-numbers hobby becomes pregnant and has to leave Cape Breton for the 'big' city of Halifax. She becomes a mother, falls in with the art-school crowd, and becomes an artist herself."
The Hanging Garden (1997), directed by Thom Fitzgerald. "Growing up gay in a dysfunctional family, Sweet William returns home to Cape Breton for a family wedding and to visit the garden where he committed suicide."
Full Blast (1999), directed by Rodrigue Jean. "This first feature by this Acadian filmmaker, then based in New Brunswick, is a ragged journey of fluid sexuality, booze, pot and grunge music—but with no way out. The boys are stoned and the stolen fish are slippery."
New Waterford Girl (2000), directed by Allan Moyle. "This hilarious coming-of-age story, shot in Cape Breton and set in the greasy 1970s, follows a young girl who wants to escape her small town and go to art school. Along the way, she learns to love the place called home, a place that is not easy to love."
Poor Boy's Game (2007), directed by Clement Virgo. "The racism, violence and class divisions of Halifax are exposed in this story of a revenge boxing match in which the fighters cannot escape the blood of the past."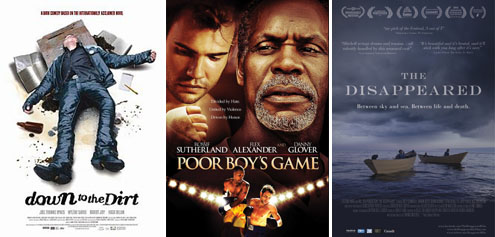 Down to the Dirt (2008), directed by Justin Simms. "A story of addiction, desperation and love, based on the novel by Newfoundland writer Joel Hynes."
Crackie (2009), directed by Sherry White. "'Crackie' is a Newfoundland term for a mongrel dog. In this film, teen girl Mitsy buys a crackie from a local bad boy in exchange for a roll in the grass, but though the dog gets all of her attention he gives no love in return."
Man of a Thousand Songs (2010), directed by William D. MacGillivray. "An unflinching portrait of creativity, addiction and Newfoundland identity as captured by the music of the late Ron Hynes."
The Disappeared (2012), directed by Shandi Mitchell. "A film that reflects the character of life on the North Atlantic with neither nostalgia nor stereotype. Six fishermen drift in two dories, having escaped the sinking of their fishing boat."