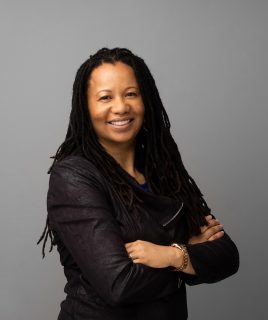 Fictions of Emancipation: Carpeaux Recast presented by the Metropolitain Museum of Art, New York City, April 28, 2022
[see event link below]
Tier 1 Canada Research Chair in Transatlantic Black Diasporic Art & Community Engagement and Founding Director of NSCAD's Institute for the Study of Canadian Slavery Dr. Charmaine Nelson regularly delivers media interviews and presentations examining the history of slavery in Canada.
Sign up for the Institute's newsletter to receive much more information on slavery in the news, in exhibitions and streaming media, and in publications.
View previous issues:
Issue 1, September 2021
Issue 2, Fall 2021
Issue 3, Winter 2022
Upcoming events
Fictions of Emancipation: Carpeaux Recast presented by the Metropolitain Museum of Art, New York City.
Thursday, April 28, 2022, 11:15 a.m. – 6 p.m. ADT
Dr. Nelson will deliver the keynote address along with a panel of scholars during a daylong symposium that examines Western sculpture in relation to the histories of transatlantic slavery, colonialism, and empire.
Past events
Virtual Fellows' Talks
Tyshan Wright, April 20, 2022
Chris J. Gismondi, April 13, 2022 (video pending)
Dressing for the Resistance: Style as Amour Among Black Canadians. Jason Cyrus – January 18, 2022

Freedom is No Game.  Tonya "Sam'Gwan" Paris – December 14, 2021

The Canadian Press on "quant à ce qui concerne Bahia": White fear, Racism and the International News Coverage of the Muslim African slave rebellions. Bruno R. Véras – December 2, 2021

Dr. Nelson's presentations and workshops

Slavery North: Excavating Canadian Slavery and Other Un(der)studied Sites – March 31 – April 2, 2002
The Precariousness of Freedom: Slave Resistance as Experience, Process, and Representation presented by the University of Windsor Office of the Vice-President, Equity, Diversity & Inclusion – March 21, 2022
'She commonly wears a Handkerchief round her Head': Expanding and Complicating the Concept of Creolization for the study of Transatlantic Slavery presented by the 2022 Vickers-Verduyn Annual Lecture in Canadian Studies – March 10, 2022
Neoclassicism, Race and Empire presented by The Oxford research Centre in Humanities – March 2, 2022
"He 'is supposed to have with him forged Certificates of his Freedom, and Passes': Slavery, Mobility, and the Creolized Counter-Knowledge of Resistance" presented by the African Studies Students' Association of McGill – February 24, 2022

"He 'is supposed to have with him forged Certificates of his Freedom, and Passes': Slavery, Mobility, and the Creolized Counter-Knowledge of Resistance" presented by the MSVU Research Office as part of its Black and Indigenous Speaker series – February 4, 2022
"She commonly wears a handkerchief round her head" presented by the Humanities Research Group at the University of Windsor – October 26, 2021
Unravelling the Mystery: Edmonia Lewis and Bute presented by the Mount Stuart Trust – October 22, 2021
Confronting exclusion and redefining heritage goals presented by the National Trust for Canada Conference – September 30, 2021,
*N.B. This was a paid registration  ($75 for students – more information here)
What former enslaved people celebrated in 1834 with slavery's demise in the British Empire presented by NS Department of Communities, Culture and Heritage – August 10, 2021
A Conversation with Charmaine Nelson presented by the Thomas Moore Institute – May 28, 2021
A Hidden History: Slavery in Canada – May 14, 2021
Grappling with the Colonial Archive: An Introduction to Canadian Slavery  – March 2, 2021
Graduate Student Panel on Transatlantic Slavery – February 25, 2021
Media interviews
CBC Radio One (August 1, 2021) – Emancipation Day and confronting Canada's history of slavery
The Coast (July 29, 2021) – What Canada's first Emancipation Day means
CBC Mainstreet (July 20, 2021) – What Black people in the British Empire endured when slavery was legal
CBC Mainstreet (July 13, 2021) – Nova Scotians profited from slavery but we haven't 'reckoned with and rectified' this history
CBC Mainstreet (July 6,2021) – Nova Scotia's slave history largely erased because it didn't fit stereotypes seen in film