The essence of Susan Wood's artistic practice is the act of drawing; the mind grasps hold of a thought as the hand translates it into a visual form.
Through the years, one of the ideas that has most captivated her has been of time passing, as two exhibitions now on display in Halifax illustrate. Recent works are on the walls at Studio 21 Fine Art, while Earth Skins, a major exhibition encompassing work going back three decades, begins a tour at Mount Saint Vincent University Art Gallery. Over the next year, the exhibition will also visit the Owens Art Gallery in Sackville, N.B., Acadia University Art Gallery in Wolfville, N.S., and the Rooms Provincial Art Gallery in St. John, Nfld.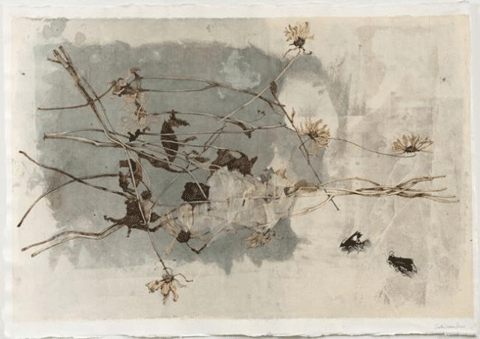 "In the earlier work, the sense of the ephemeral was an element, but now it always seems to be there," says the Halifax-based artist.
"Most of the things I want to draw are past their prime. I think I've always been attracted to things that are less than perfect and capture some sense of change."
The idea of the fragility of life is conveyed in the imagery—once brilliantly coloured tulips now dried and paper thin; dragonflies with broken wings; bouquets of brown stalks and withered blooms. But that idea is also conveyed in the way her artwork is assembled: translucent sheets of Japanese washi paper layered one on top of the other. In some instances, drawings that were completed and set aside years ago are unearthed and added into the strata along with scraps of text and more recent drawings.
It's almost like archaeology, providing a glimpse of a life lived. And which is not unlike the process that curator Susan Gibson Garvey undertook in assembling Earth Skins, a retrospective covering 30 years of artistic output, from the dramatic series of drawings Devil's Purse (1985), to the monumental dress series (early 1990s), and Florilegium, a collection of flower drawings dating to 2003.
Throughout those artistic expressions, Susan has never lost contact with the process of learning. A maritimer who was born in Saint John, N.B. and grew up in Amherst, N.S., Susan has taught at the Nova Scotia College of Art and Design since 1990. Presently an associate professor in the Foundation program, she teaches drawing, painting and printing to first-year students.
"I like the contact with that age group; they're new to art school and they've made a decision to create a life of art," she says. "They're keen and they have a ton of questions. They're fun to teach."
If you go:
Susan Wood and Catherine Beaudette. Through to September 7 at Studio 21 Fine Art, 1223 Lower Water Street.
Earth Skins: Three Decades of Drawing by Susan Wood. To October 2 at Mount Saint Vincent University Art Gallery, 166 Bedford Highway.