January 29 – February 2, 2019Opening reception: Monday, January 28, 5:30 – 7PM
Anna Leonowens Gallery, 1891 Granville Street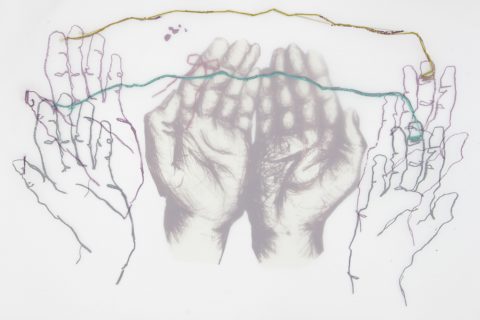 Dissociative Tendencies — Emily Doucette
undergraduate exhibitor — Gallery 1
Doucette explores the psychological phenomenon of dissociation through printmaking, bookbinding and sewing. Each work combines layering and transparency to convey the feeling of disconnection from one's emotions, body and environment as a response to traumatic experience.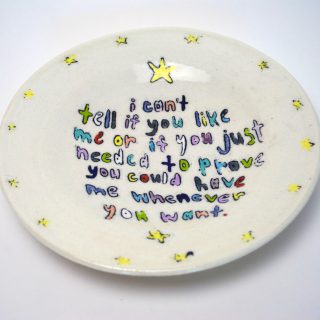 Under and Over You — Juliana Benoit
undergraduate exhibitor — Gallery 2A
Benoit explores the poetic vulnerability, heartache and lust inherent in first love. Personal and found texts are combined with colourful imagery and porcelain ceramic vessels to create jarring and bold surfaces. Benoit's work creates an intimate narrative rooted in themes of self-love and girl power.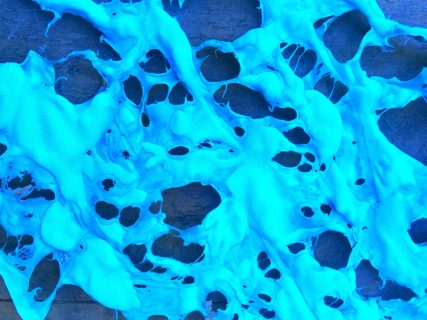 Toxic Sublime — Channing Ross
undergraduate exhibitor — Gallery 2B
Noon Talk: Wednesday, January 30

Ross deconstructs polyester fibres to create seemingly organic patterns. By using extreme heat with synthetic material, the genesis of intricate cellulose patterns emerge, creating ethereal topographical surfaces, "resting in a space between permanence and decomposition, natural and industrial, toxic and sublime."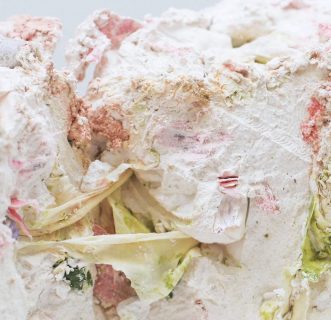 HAPPINESS IS NOT ALWAYS FUN — Lauren Hodder
undergraduate exhibitor — Gallery 3 
Noon Talk: Friday, February 1

Informed by abstract painting, Hodder creates three-dimensional works that facilitate a subjective visceral experience. She employs the potential for sensual arousal that exists in familiar ready-made materials and those which are fabricated and ambiguous. She is interested in the space between polarities: "confidence/doubt, pathos/sarcasm, sexualization/innocence, depression/euphoria, attraction/repulsion, synthetic/natural. Happiness… began out of a desire to know where one half of the binary turns into the other, why they may fall in on themselves, how they can be hidden, and when they may exist better off alone," she explains.