Three NSCAD University alumni have made the longlist this year for Canada's largest financial prize for contemporary artists. Alan Syliboy (1975), Laura Acosta (BFA 2011), and Séamus Gallagher (BFA 2019) each made the 2023 longlist. They are joined by 25 other artists from across the country. 
The Sobey Art Award  is given annually to a Canadian artist who has exhibited their work in a public or commercial art gallery in the previous 18 months. This year's overall winner will receive $100,000. 
Since 2002, 56 students, alumni, faculty or visiting artists have been longlisted for the award. Of those, 10 have gone on to receive the prize: a 2020 cohort that included Melanie Colisimo (faculty/staff), Joseph Tisiga (2011), Graeme Patterson (BFA 2003), Lou Sheppard (BFA 2006), and asinnajaq uitaalutuq (BFA 2015); Ursula Johnson (BFA 2006) in 2017, Christian Giroux (BFA 1995) with Daniel Young in 2011, and Jean-Pierre Gauthier (visiting artist and honorary doctorate 2018) in 2004.  
The short list of finalists will be announced June 7. The selected artists will be exhibited at the National Gallery of Canada in the fall and winter of 2023-24. The winner of the 2023 Sobey Art Award will be announced November 18 during a gala event at the gallery in the fall. The artists on the long list will receive $10,000 in prize money. Those selected for the short list will be awarded $25,000.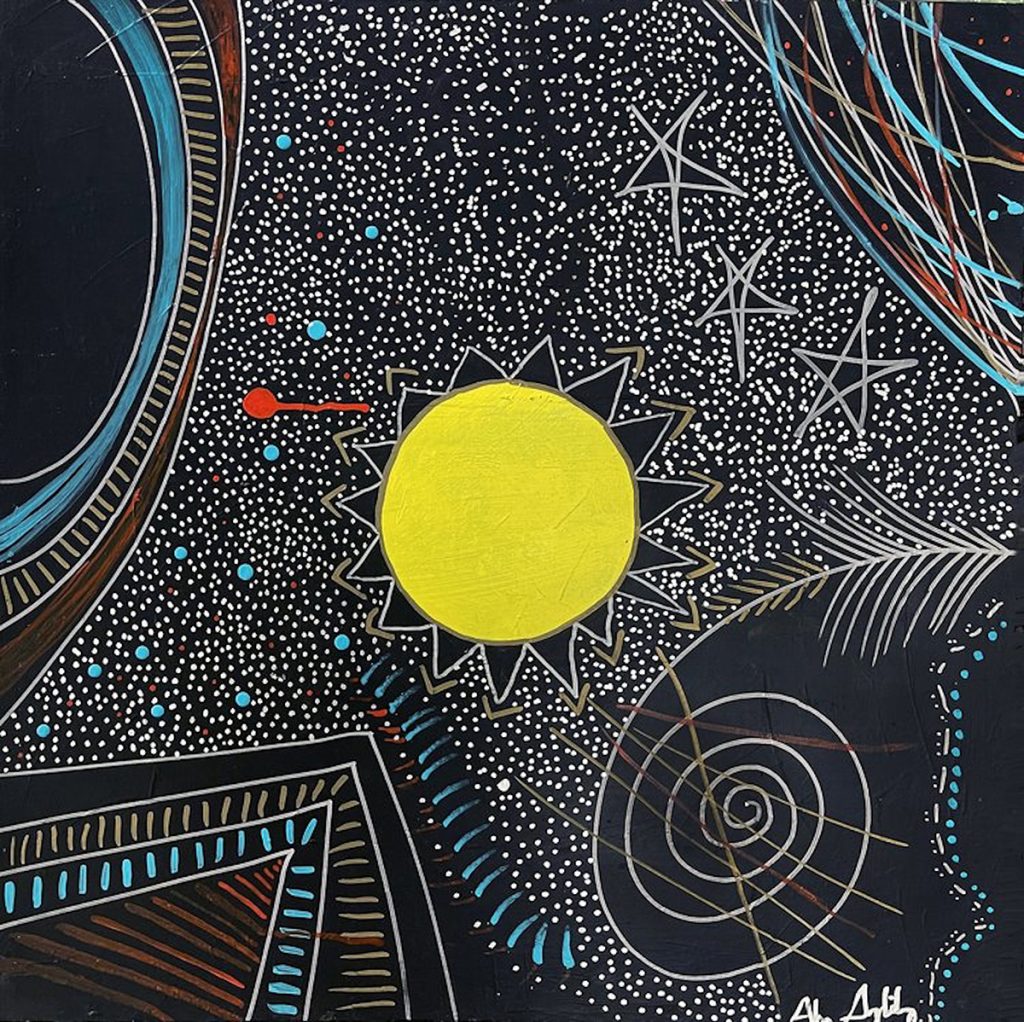 Alan Syliboy
Alan Syliboy (1975) is an established Mi'kmaq artist, author, musician, filmmaker and book illustrator, whose artistic vocabulary is inspired by the Indigenous petroglyphs of Nova Scotia, and by rock-painting and quill-weaving traditions. Born and raised on Millbrook First Nation in Truro, Syliboy studied privately with influential artist and activist Shirley Bear, and later at the Nova Scotia College of Art and Design. 
Syliboy sees art as a way of organizing chaos and speaks of his ancestors as having provided him with a global navigation system. His work has been displayed at venues in both Canada and abroad, and he was a recipient of the Queen Elizabeth II Golden Jubilee Medal in 2002. 
He grew up believing that native art was generic.  "As a youth, I found painting difficult and painful, because I was unsure of my identity."  But his confidence grew in 1972 when he studied privately with Bear.  He attended the NSCAD in the 1970s and returned to the university to sit on the Board of Governors in the 1990s.  
Syliboy looked to the Indigenous Mi'kmaq petroglyph tradition for inspiration and developed his own artistic vocabulary out of those forms. His popularization of these symbolic icons has conferred on them a mainstream legitimacy that restores community pride in its Mi'kmaq heritage. Alan still lives and works in Millbrook, NS, where he was born and raised. He creates his art in his studio in Truro, NS. 
Laura Acosta with Santiago Tavera
Laura Acosta (BFA 2011) and Santiago Tavera are a Colombian-Canadian artistic duo based in Montréal. Their work combines Tavera's investigation of video practices and virtual and interactive environments in relation to the body, with Acosta's exploration of identity through performance and textiles. 
Together, they create immersive experiences and expanded performances presenting narratives of displacement and experiences of the Other. Their collaborative projects have been supported by the Canada Council for the Arts and Le Conseil des arts et des lettres du Québec, and have been presented in Canada and Colombia. 
Acosta is a Colombian-Canadian transdisciplinary artist interested in observing how different bodies accept or reject the structures they dwell within, and the effects this can take on the surrounding environment.  
The core of Laura's performances liein the interactions between textile pieces, performers, viewers, and the environment they are all in. Laura's textile and performance work extends into practices of public intervention, multimedia installation, video art, experimental sound, and workshops.  
Laura holds a diploma in Fine Arts from Fanshawe College, an interdisciplinary BFA with a special focus on textiles and sculpture from and NSCAD University, as well as an MFA in Fibres and Material studies from Concordia University, where she is currently the Head of Wardrobe in the Theatre Department.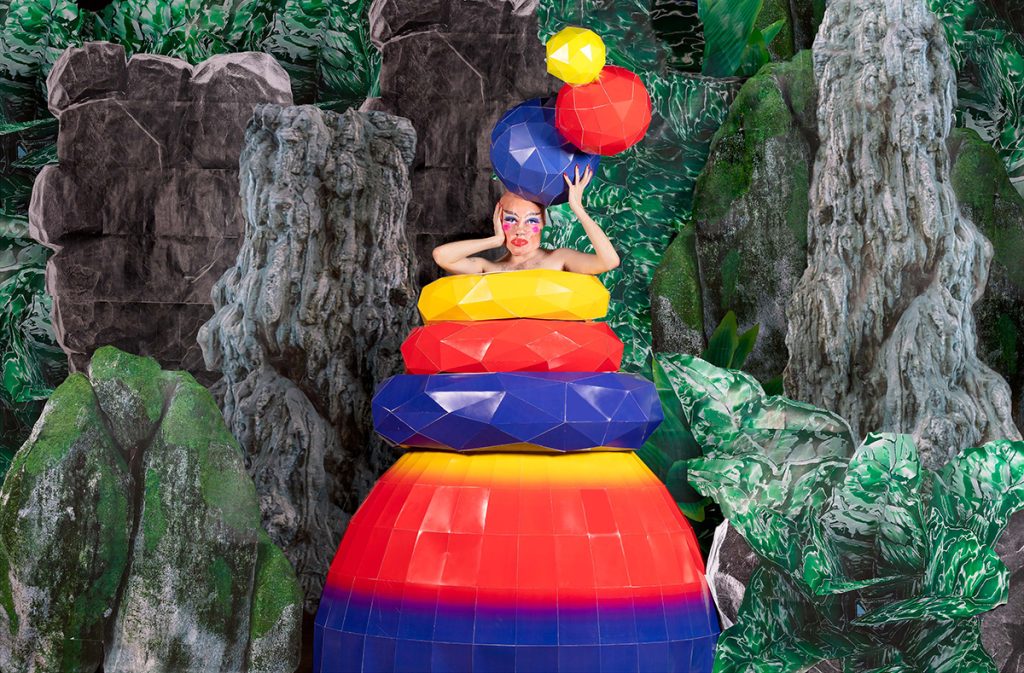 Séamus Gallagher
Séamus Gallagher is a lens-based media artist living in Kjipuktuk (Halifax, Nova Scotia). They use self-portraiture and performing for the camera to address gender performances within a digital/online context. Their work is heavily influenced by pop music, video game aesthetics, and writers like José Esteban Muñoz, Ursula K. Le Guin, and Mark Fisher. Outside of photography and video, they generally work with the video game engine Unity to create virtual reality art projects. Gallagher is the recipient of the 2022 Scotiabank New Generation Photography Award, the 2019 BMO 1st Art! Award, and the 2017 AIMIA | AGO Photography Scholarship. They have exhibited at the Locarno Film Festival, the Museum of Fine Art of Leipzig, as well as the Museum of Contemporary Art in Toronto. In fall of 2022 they will be exhibiting new photographic work at the National Gallery of Canada. Additionally, Gallagher is currently on the board of directors for local music/arts festival EVERYSEEKER, as well as national online video art distribution organization VUCAVU. Since 2019, Gallagher has been an active member of arts/research collective IOTA Institute.
 
Infusing queer aesthetics with self-portraiture, video game engines, and set construction, Gallagher explores the limits of representation, and failure as a form of liberation. Gallagher's work has been shown at the National Gallery of Canada, the Museum der bildenden Künste Leipzig, the Portrait Gallery of Canada, and the Locarno Film Festival in Switzerland, among others. 
Gallagher is a recipient of the Scotiabank 2022 New Generation Photography Award, the 2022 Nova Scotia Emerging Artist Recognition Award, and the 2019 BMO 1st Art Award.