The past year has been an impressive one for the children's book Town is By the Sea, as well as for its author Joanne Schwartz and illustrator Sydney Smith. The book, published by Groundwood Books in 2017, took home the $50k TD Canadian Children's Literature award, Britain's Kate Greenaway Medal, and in May of 2019 Smith will be presented with the Atlantic Book Awards' Lillian Shepherd Memorial Award for Excellence in Illustration.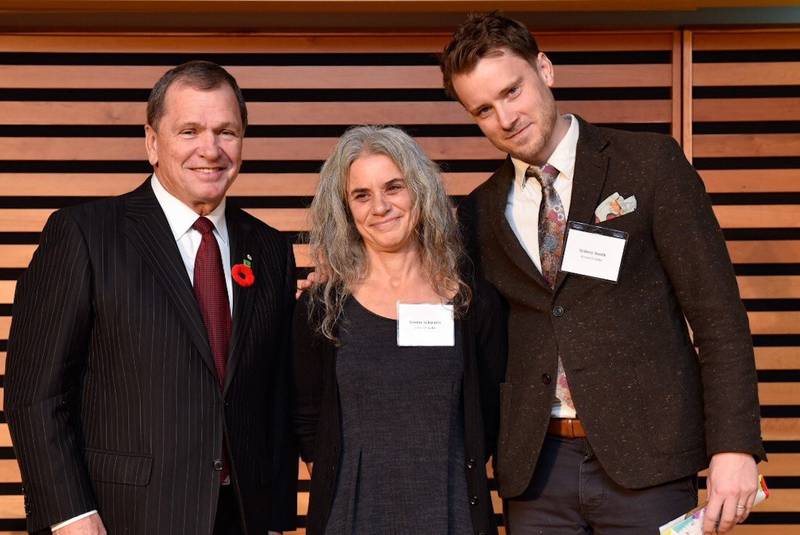 Town is by the Sea takes place in a small town in Cape Breton, with illustrations of scenes of home and hearth and sea and coalmine all thoughtfully detailed by the NSCAD alumni. Originally from Nova Scotia's South Shore, Smith knew the importance of these details to Maritimers. "There's always the risk that I'm misrepresenting or glorifying or romanticizing," he says "or that I didn't really hit the mark, especially because there are so many details about living in Cape Breton in the 50s." He gives an example of a page in the book where he drew a box of tea. Red Rose: a staple in many Atlantic kitchens. But when a friend from Cape Breton saw the illustration she immediately spotted the problem. "No, no, no, no. it's King Cole," she told him, "King Cole tea would be on that table, not Red Rose. Red Rose is for people 'from town.'" So the day before the book went to press, Smith pulled the page to change the tea from Red Rose to King Cole. "It's a huge difference," says Smith, "how you identify is through these small little things, it was very important to me to get it right."
These details are exactly the type of thing that Smith fixates on. He is a work horse, and self-professes to be very consumed by the projects he works on. "I'll allow myself to get lost in it a little bit, become obsessed with it, take it everywhere with me. But I think that's important, you have to risk losing your mind to get to these places".
He credits much of this work ethic to his time at NSCAD. "Being around the printmaking studio at 4 in the morning  you see people who are just so driven and so focused, it's just really encouraging," he says, "there's a certain high that you get from it that you don't really get from anything else." Smith spent a fair amount of time in the NSCAD print studio, and says it took him three years of printmaking before he finally made his way around to drawing, largely to the credit of the print instructors. "Dan O'Neill was really supportive, super supportive, and he even was the one who suggested that I could make a real living off of children's illustration".
Many illustrators train in graphic design rather than attend art school, which Smith thinks would have trained him just as well in his technical abilities, but credits his time at NSCAD with teaching him to think outside of the box. "I feel like NSCAD really gives you an opportunity to try on different hats, to experiment and explore" he says. Even what he expected to be the most straightforward classes surpassed his expectations. "Michael Fernandes was a mystery in the moment" says Smith "because he thought that his role wasn't to try to teach you how to render or draw accurately. For him his role was to open you mind more, he never told you how to think."
Not only did Smith's time at NSCAD open the door to new ways of thinking about art and illustration, but it also was where he began his work as an illustrator after answering an ad in the school paper. Since then Smith has illustrated books by Canadian favourites such as Sheree Fitch and musician Jill Barber, and though he is currently living and working in Toronto he feels very much rooted in Nova Scotia. Though awards earned by his work in Town is by the Sea are prestigious, both Canadian and international, he admits he has a soft spot for the recognition from the Atlantic Book Awards. "It was really important to me that I had a blessing from home," says Smith, speaking about the significance of working on a book about Nova Scotia while living away. "It allowed for me to re-identify with my home and it allowed me to tell a story that is where I'm from."