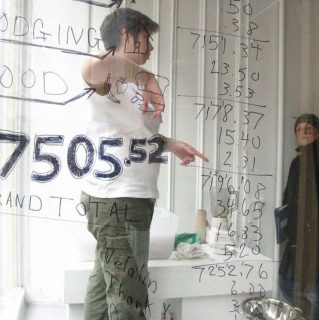 Ursula Johnson (BFA 2006) is one of 27 emerging and established First Nations, Métis and Inuit artists from across Canada profiled in Expressions: Canada's Aboriginal Artists.
A publication of the Canada Council for the Arts, Expressions honours the work of these artists, while giving readers a sense of the impressive breadth and range of this country's Aboriginal art, as represented in dance, media arts, music, theatre, visual arts and writing.
Ursula, the first female Mi'kmaq student from Eskasoni First Nation to graduate from NSCAD, is one of five visual artists featured in Expressions, alongside fellow NSCAD alumnus Mary Longman, MFA '93, Edward Poitras, Steven Loft and Jane Ash Poitras.
Here's an excerpt from Ursula's profile:
Many people spend years seeking their path in life. Not Ursula Johnson. She can't remember a time when she didn't want to be an artist.
"When I was little, my mom took a photo of a journalist interviewing me about speaking Mi'kmaq," says Ursula. "And in the photo, I'm sitting there drawing. I told that journalist that I wanted to be an artist."
When people first meet Ursula Johnson, they are often surprised by her youth. Her work shows a maturity and sophistication far beyond her years. For that, Ursula credits two pillars in her life — the wisdom of her family, particularly her great-grandmother (Ursula lived with her when she was a child), and her strong grasp of Mi'kmaq language and culture.
Expressions: Canada's Aboriginal Artists is available online through the Canada Council website.