For more than two decades, the Wearable and Performance Art Night has been a fixture on the NSCAD University calendar, giving students an outlet and a showcase for their more outrageous art instincts.
The 25th annual extravaganza takes place Thursday, March 5 at the Pacifico night club in the Maritime Centre, 1505 Barrington Street. Doors open at 7 p.m., with the show starting at 8 p.m.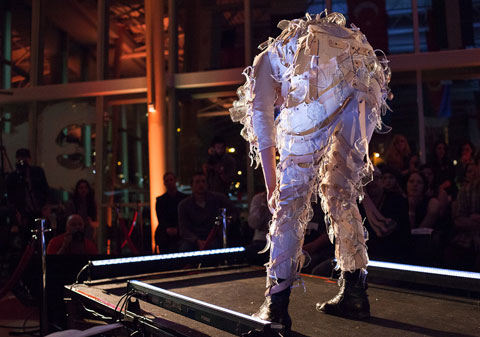 "It's coming at a great time this year—we desperately need some colour and feather boas and glitter right about now," says Jessica Wiebe, a fourth-year NSCAD student who is organizing the show.
Fifteen artists—students, faculty, alumni and community participants—are now working feverishly to finish their wearable-art and sculptural pieces. The show will be hosted by Deva Station, who promises many imaginative costume changes.
The show has a reputation for being outlandish, garish and fun, but it's always had a serious side too. Over the years, NSCAD has raised more than $100,000 for the AIDS Coalition of Nova Scotia.
"The Wearable Art show has played a role in creating awareness and the need to support the programs and services of the AIDS Coalition, and, in turn, those living with HIV and at risk," says Maria Mac Intosh, executive director of the AIDS Coalition.
"It's important to say that when a group like NSCAD offers 25 years of support, awareness and commitment to the cause that their impact in helping others is immeasurable."
The very first show, conceived by NSCAD alumnus Andrew Harwood (BFA 1991) as a class project, had the title "Wrapped and Lubed, Wrapped and Lewd." Andrew, a visual artist now living in Toronto, recalls that the spring of 1991 was a "very scary time for gay men and intravenous drug users."
"It's very difficult for many young people to know what the first waves of deaths were like and how people just withered away in front of our eyes," continues Andrew. "(The show) was a huge morale booster for people living with HIV/AIDS at the time. It seemed like people started to care and to raise much needed funds for people and for research. I think this show made us all feel a little less hopeless as conservative governments in Canada and the U.S. in the 1980s and 1990s were not very eager to fund any research for cures or treatments."
Tickets for the Wearable & Performance Art Night are $10 in advance, available at the NSCAD Art Supply Shop, Venus Envy and online at wearableartshow.myevent.com. Tickets are also available at the door the night of the show—the first 200 people will qualify for the $10 admission price. After those run out, tickets will be $20 or $15 for students. Admission is restricted to those 19 years and older.
For those on campus, tickets will also be available in the NSCAD student lounge from 11:30 a.m. to 2 p.m. from Feb. 23-27.