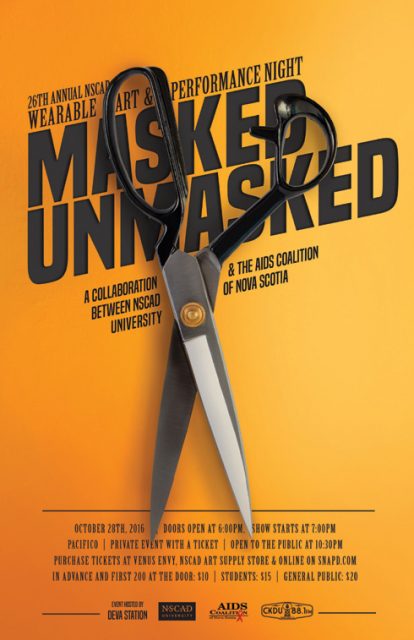 NSCAD and the AIDS Coalition of Nova Scotia are collaborating once again to produce the 26th Annual Wearable Art & Performance Night. This event is an open call to artists, performers, activists, poets, designers, and creators of all kinds to join in this high energy night of theatrics. It is going to be a vibrant masquerade where artists from NSCAD and the community are welcomed to display their creativity.
The event takes place at Pacifico in the Maritime Centre on Friday, October 28th. Doors will open at 6 pm and show will start at 7 pm. After 10:30 pm, Pacifico will be open for the public to join the after party. It will be a night to remember! Do not forget to put your mask on! It is a masquerade for everybody!
Tickets are  available at Snapd, Venus Envy and NSCAD Art Supply Store.
LINKS:
Sign up at the Facebook event
View photos from the 25th annual Wearable Art and Performance Night