In December, artist Charley Young solicited the participation of Syrian families for her project, The Space Between Held Hands. Katie Nakaska Photo.
Last year, as Charley Young and her partner Luke Smith made the daily commute into Halifax by car, the radio was tuned to CBC Radio. And everyday, they listened with increasing dismay at the situation in Syria and the plight of its citizens.
When the Canadian government announced plans to welcome 25,000 Syrian refugees, Charley and Luke were eager to get involved by volunteering with Immigrant Services Association of Nova Scotia and helping to settle a family who have made Halifax their home.
That experience informs Charley's latest artwork, The Space Between Held Hands, now on display at the Canadian Museum of Immigration at Pier 21 as part of the exhibition Canada: Day 1. The work comprises bronze casts of the negative space between one person's hand and another's—whether between a parent and child, two friends upon meeting, or new acquaintances at the airport.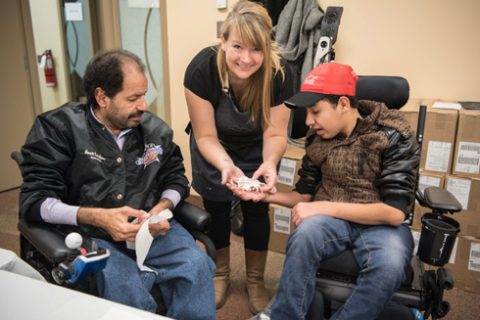 "I see these as little precious moments that have been paused and preserved," says Charley (BFA 2009), who teaches in the Foundation Division at NSCAD. "That little space between is the space that unites us."
That tiny cavity is also evocative of what might have been: "These are beautiful moments between families—husband and wife, parents and children—who might have been separated by war and strife but are thankfully still together and thriving," she says.
The casting session for The Space Between Held Hands took place in December at Immigrant Services of Nova Scotia with seven Syrian families participating. The substance used to create the moulds—alginate—results in incredibly detailed impressions, capturing fingerprints and the lines on the palms of hands. As a viewer, the urge is almost irresistible to cradle your own hand around one of the bronze casts.
Canada Day 1 is on display in the Ralph and Rose Chiodo Gallery at Pier 21 until November 12. Other participating artists include Chun Hua Catherine Dong, Jennifer Akkermans, Shoheila Esfahani, Lin Xu, and Shauntay Grant.