The 2020 Sobey Art Award had a significant NSCAD presence, as seven artists with direct ties to the university were honoured in the April 15, 2020 announcement.
This year, due to the ongoing COVID-19 pandemic, the award was presented in a modified fashion. Instead of a five-artist shortlist, shortlist exhibition, final winner announcement gala and an International Residencies Program, each of the 25 Canadian artists on the jury-selected 2020 longlist will be awarded $25,000.
The Sobey Art Award recognizes significant achievement in Canadian contemporary art. The seven awarded artists with direct ties to NSCAD include four alumni and a staff member:
Graeme Patterson (BFA 2003)
Lou Sheppard (BFA 2006)
Joseph Tisiga (completed Foundation at NSCAD 2011-2012)
Asinnajaq (BFA 2015)
Melanie Colosimo (Director/Curator of NSCAD's Anna Leonowens Gallery Systems)
Amy Malbeuf (participant in NSCAD's Lithography Workshop)
Jordan Bennett (participant in NSCAD's Lithography Workshop)
"We commend the Sobey Foundation and the National Gallery of Canada for their commitment to the Sobey Art Award Program, especially during this chaotic and stressful time," said Dr. Ann-Barbara Graff, Vice-President, Academic and Research, NSCAD University. "Their generous recognition of these artists is inspiring, and affords young Canadian artists national and international exposure during a pivotal time in their careers. We are immensely proud to be so closely connected to seven of the 2020 winners."
Dr. Graff said that each of the artists has a unique voice, vision and approach that makes them eligible for this prestigious award, and noted how welcome the news is during a time of social upheaval.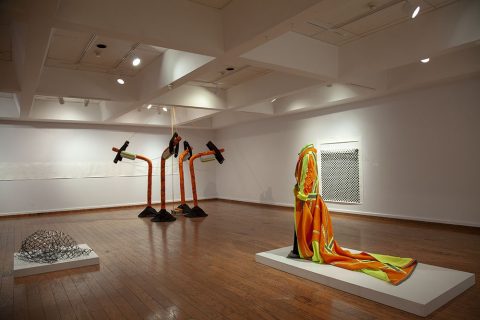 The Sobey Art Award celebrates and advocates for Canadian contemporary visual artists at home and around the world. By altering this year's program, the 2020 Sobey Art Award continues to contribute to the short- and long-term preservation of Canada's contemporary art ecosystem in the face of national uncertainty and anxiety.
In a National Gallery of Canada announcement, Sobey Art Foundation Chair Rob Sobey observed that the current "…extraordinary, historic, and challenging circumstances will have a profound impact on the livelihoods and practices of artists across Canada and around the world," and noted how artists and their art can bring us together.
The Sobey Art Award was launched in 2001 to shine a spotlight on rising Canadian artists under the age of 40 in the contemporary art scene. Each year, a jury panel selects 25 artists representing five different regions of the country. In past years, the contenders would be whittled down to a short list of five, who are then showcased in an exhibition. Finally, a winner would then receive the top prize of CAN$100,000 at an awards gala.
The Sobey Art Award is committed to returning to the juried annual award and the international residencies program as soon as public health guidelines permit.