You could say Julie Trudel's work has taken a turn since she first arrived at NSCAD University as the William and Isabel Pope Artist's Residency in Painting . Her paintings on Plexiglas actually bend off the walls in a process she's developed in consultation with Donald Thompson at the Port Campus.
"I came up with the idea of bending the paintings. I did a few small scale prototypes and Donnie and I worked together on the technical aspects," she says, in a light-filled studio on the Fountain Campus. "We've been trying different things and basically having a lot of fun together."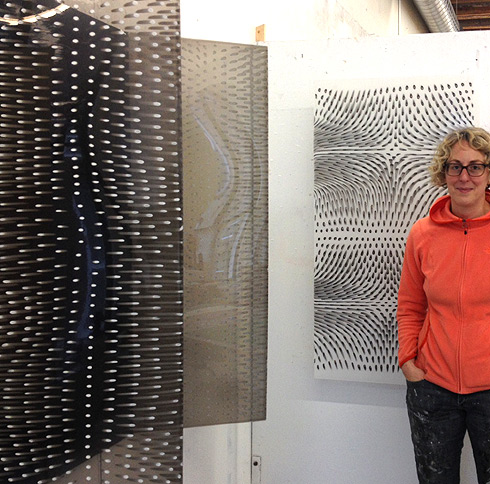 An abstract painter, Julie's work has a digital sensibility although done without the aid of a computer. Her artworks on Plexiglas are entirely painted by hand using liquid paint and dripping processes, giving her work the illusion of three-dimensionality and motion. Now, with some careful bends applied to her acrylic panels using heat, she's able to play with light and shadows too.
It's clearly been a productive time for the Montreal artist, who is supported with a stipend of $8,000 through the Robert Pope Foundation artist in residence while NSCAD provides studio space, faculty support and a solo exhibition at the Anna Leonowens Gallery.
"There's a lot of energy here. It's wonderful to be at a real art school, to see the teaching and to discover the art community here," says Julie, winner of the 2013 Plaskett Award.
Her show, Ivory Black and Titanium White Project: Transparency and Distortion will took place Nov. 17 to 28 at the Anna Leonowens Gallery.
"I really love it here. It's a great place to put your head down and work," says Julie, who earned her BFA and MFA from UQAM (Montreal). "Everything has been so smooth and easy."
The Robert Pope Foundation provides support of artists, public art galleries, cancer patients, palliative care and community wellness in the name of Robert Pope, a Nova Scotia artist and NSCAD alumnus who died of Hodgkin's Disease in 1992. The artist in residence at NSCAD is named in memory of Robert Pope's parents Bill and Isabel Pope. Past Bill and Isabel Pope Artist's Residency in Painting include Colin Dorward from Edmonton, AB; Rachel MacFarlane from Toronto, ON; and Rick Leong from Victoria, BC.
Colin Muir Dorward has this to say about his time as the William and Isabel Pope Artist's Residency in Painting:

"This is a huge gift to the arts in Canada – a rare opportunity for painters to be given safe, funded space for carte blanche research creation. It's the size of the gift that made it so effective; I was able to extend my time in Halifax beyond the residency, and work to develop a second body of work that exhibited later in Ottawa. Looking back, it's clear that my practice continues to be guided by what I developed there in proximity with NSCAD. Projects like this evidently benefit the artist beyond the moment of the residency itself."