NSCAD University Announces 2018 Starfish Student Art Awards Finalists
Ten artists have been shortlisted from among 84 applicants for NSCAD University's 2018 Starfish Student Art Awards. The Starfish jury will announce the grand prize winner at the Starfish Gala on Thursday, April 19, 7 to 9 p.m. at NSCAD's Port Campus. The winning artist is awarded the $5,000 purchase prize for their artwork, which then becomes part of NSCAD University's permanent collection. Nine finalists will receive $1,000.
Each of the 10 nominated works represents a different visual art discipline. The 2018 finalists, their artworks and the categories in which they are nominated are:
Isabelle Foisy (BFA 2017), Sculpture: Fortitude, 2017, steel, copper, mesh, wood, mirror; 8'x4'x39"
Cameron Roberts (BFA 2018), Painting: Ornamental Princess, 2018, oil paint, oil pastel, acrylic, airbrush; 8'x5'
Julian Covey (BFA 2018), Ceramics: The Space In-Between, 2018, porcelain; 80"x50"x27"
Seamus Gallagher (BFA 2019), Photography: a space and place for all of us, 2018, photographic triptych; each 44'x66"
Carrie Allison (MFA 2018), Intermedia: 150, 2017, beads, wood, polyethylene filament; 91"x59"
Cullen Bingeman (MFA 2019), Drawing: Windmill Road, 2017, India ink on paper; 6'x8'
Anastasia Pindera (BFA 2018), Jewellery Design and Metalsmithing: Enclosure, 2017, brass; 77.5×38.1×59 cm
Camila Salcedo (BFA 2018), Textiles: Hamaca, 2017, weaving, approx. 10'x4' varies in height when hung
Olivia King (BFA 2019), Film: For Emma, 2017, film; 16:9 (1080 p)
Erika Krueger (BFA 2018), Printmaking: What's left of her. What's left of her?, 2017, relief and screen print; 6ft diameter, 10ft height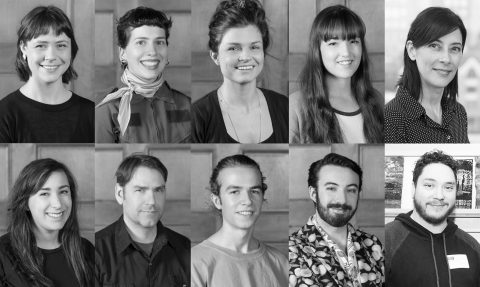 (2018 Starfish Student Art Awards finalists top row: Anastasia Pindera; Camila Salcedo; Carrie Allison; Erika Krueger; bottom row: Olivia King; Cullen Bingeman; Cameron Robert; Seamus Gallagher; Photography by Katherine Nakaska. Individual photos: Isabelle Foisy, top right, photo provided by artist; Julian Covey, bottom right, photo by Erica Flake)
This is the ninth year for the Starfish Student Art Awards, named for presenting sponsor Starfish Properties. Established by property developer and art collector Louis Reznick and NSCAD University to recognize and promote exceptional students, the awards provide emerging artists with vital visibility as they embark upon their careers.
Thank you to the creative businesses supporting the 2018 Starfish Student Art Awards:
Gold Sponsors: EllisDon Construction, Halifax Seaport, Rockhead Wine and Beer Market, Scotiabank, Stewart McKelvey, TD Insurance Meloche Monnex Group
Silver Sponsors: AyA Kitchens and Baths, Bryant Realty Atlantic, CKG Elevator Ltd, The Coast, Coastal Entrance Solutions, Compass Commercial Realty, Dexter Construction, Floors Plus, Flynn Canada Ltd, Gordon Stirrett Wealth Management, KW Commercial Advisors, Lydon Lynch Architects, Medavie Blue Cross, Office Interiors, Rogers, SouthEast Drywall, Wacky's Flooring, Windmill U-Store It
Supporters: Attica Furnishings Ltd, Easco Electric, Garrison Brewing, Greenwood Lane, Marco Group, Miller Waste Systems, Rhyno's Heating Cooling Ventilation & Refrigeration
Members of the 2018 Starfish Student Art Awards jury are: Susan Charles, Director of the Mary E. Black Gallery; Jamie McLellan, Community Developer, Culture and Events HRM; Mireille Bourgeois, Program Officer Arts Nova Scotia; and Linda Hutchison, Associate Vice President, University Relations, NSCAD University. The Starfish Student Art Awards are coordinated by Melanie Colosimo, Director of NSCAD University's Anna Leonowens Gallery.