NSCAD jewellery students are incredibly hard workers and senior student Andreea Murgu was no exception. Andreea took studio in both Fashion and Jewellery, creating innovative adornment and apparel that was featured in this years Fashion show.
NSCAD Jewellery Design and Metalsmithing students explore the media and practices of jewellery and hollowware while engaging in critical discussions about content and form. The program offers a broad based metals education, including studies of art jewellery, hollowware, product design, and metal business practice. After developing basic technical skills, you will move on to more advanced technical procedures and carve out your own individual artistic practice.
About her work Andreea says,
"I relate my textile and metalsmithing practices in terms of process. I value play and experimentation with materials, and try to hone those results with controlled techniques. In textiles I've been interested in natural dyes, and in metal, the processes of fusing copper and silver.
I think adornment has very strong psychological implications. It can bring to life a fantasy, create an illusion, reinforce identity. My apparel collection is inspired by uniforms, processes of labour, the wearing of and out of clothing. There are some ecclesiastical influences in there too… My garments are naturally dyed with tea, avocado stones, indigo and iron."
Andrea created NSCAD jewellery first ever "Craft Mixer" to fill a need she saw for more interaction between students studying in NSCAD's different craft areas.
Already quite busy at semester's end,
Andreea
received another bit of good news for her inspiring work in teh NSCAD jewellery program. Her rendering of a neckpiece took top prize in
Canadian Jewellers Association
 100th Anniversary Design Competition, which was open to all jewellery programs across Canada.  Andreea was awarded full funding to create her silver /gold Keum-boo/pearl neckpiece, as well as a $3000 scholarship, and trip to Toronto to attend the Jewellers Association gala. Congratulations
Andreea!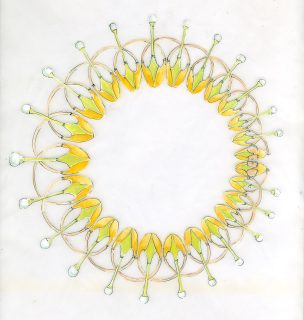 Her winning entry for the "Colors of Spring" competition sponsored by the CJA