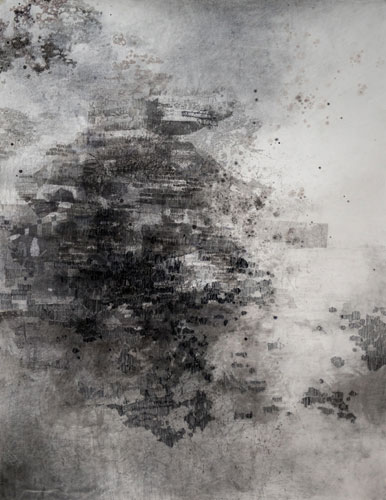 Alexis Bulman has been having a wonderful summer, post graduation. She scored her first solo exhibition, Life for 20¢, at her hometown gallery, Charlottetown's Gallery @ The Guild. She has two pieces on display in another exhibition, Emerging NSCAD Artists 2013, which just opened at the Nova Scotia Power/Emera Head Office in Halifax.
And now the icing on the proverbial cake. She has just been named a regional winner in the BMO 1st Art! Awards, a national competition for emerging artists.
As the top entry for Nova Scotia, she wins $5,000 and her mixed-media artwork, titled Mildew, will go on display in October as part of an exhibition at the Museum of Contemporary Canadian Arts (MOCCA) in Toronto.
"I was really surprised and pleased to be chosen," says Alexis, who graduated from NSCAD with an interdisciplinary BFA in May.
For the competition, deans and instructors of undergraduate certificate, diploma, and degree arts programs are invited to select three graduating students who stand out from among their peers due to their skill and imagination. A panel of esteemed judges chooses an overall national winner and one winner from each eligible province and territory. Erika Dueck, a student from the University of Manitoba, was selected as the national winner for the installation, The Ephemeral Mind.
But there's no time to rest on her laurels. Along with a friend, Patrick Callbeck, she is currently working on a documentary about Prince Edward Island's much beloved Rainbow Valley and raising money through Indiegogo to finance it. Remember the swan boats and the white stucco castle? The area occupied by the park is now owned by Parks Canada and is known by the name Cavendish Grove.
But it will always be Rainbow Valley for generations of Maritime families which made it their destination for more than 40 years. The two PEI filmmakers have fond memories of the amusement park, closed since 2005, and soon discovered that many other people do too. They've been collecting people's holiday memories and stories through home videos, cherished family photographs and select interviews.
When she began her studies at NSCAD, Alexis could never imagine making a film. She thought she'd be a jeweler, but soon found there was too much to learn to focus on one area.
"I wanted to try a little bit of everything and find out what I really liked … it turned out I liked everything too much to settle on one thing."
LINKS:
"Rainbow Valley documentary planned" – CBC News
Indiegogo: Rainbow Valley documentary
BMO 1st Art Invitational Competition