From the studios of NSCAD's Fountain Campus to Martha Stewart Living Omnimedia: you just never know where life will take you.
Take NSCAD University graduate Gillian MacLeod for example. She has a portfolio many designers would long for, having done work for Nylon, House Beautiful Magazine, O Magazine, Elle, and The New York Times. Now living in New York, she's now the Deputy Art Director of Martha Stewart Living.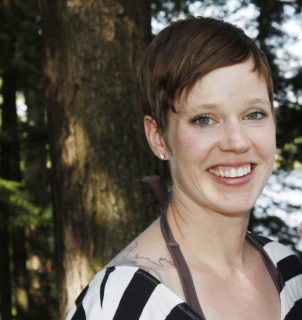 "I never expected to land where I did. New York was always a big dream of mine. I feel grateful that I've been able to get where I am and be happy and confident in my career as a designer and an artist. NSCAD had a lot to do with that."
She continues: "It was a really amazing experience; it provided me with a serious foundation for the design world.  I developed a lot of good habits. The honours program gave me tools to conceptualize ideas. It was all about developing a process that could be applied to many different types of work."
Typography was her favourite subject at NSCAD.  She spoke fondly about taking courses from Rudi Meyer, associate professor, and director of the Master of Design program.
"Rudi is great; really early on I took an intro to typographic design class with him and we're still in touch.  He's such a fascinating and incredibly intelligent person."
Originally from Toronto, MacLeod is busier than ever: working on various books (One Pot Cookbook, Martha Stewart's Favorite Crafts for Kids) and Martha Stewart Living Magazine and freelancing as an illustrator on the side. But she's used to the fast paced lifestyle and her time at NSCAD prepared her for that."I guess I would say it was like a discovery, it was really busy, school's intense, and you're just always working.  If you're not in the studio, then you're at home working, especially at NSCAD, you want to take advantage of it while you're there."
She attributes her success to a combination of versatility, flexibility, focus and surrounding herself with the right people.
"Being surrounded by all of the talent at the company, I feed off of the creative energy of other people. It's really amazing being at Martha Stewart, it's truly an incomparable place."
MacLeod's passion for NSCAD is obvious to anyone who asks her about the school, one day she hopes to return.
"I love NSCAD; I love the buildings…they're like a maze.  I dream about coming back and maybe doing a lecture on the publishing world or something like that," she says.
Connection is a theme that pops up repeatedly while talking with the designer.
"There's something about NSCAD; you make ties and they continue to come up again and again," she says.  "I did some work for an artist in New York who's a professor at Vassar and she just so happened to be having a show at The Anna Leonowens Gallery (at NSCAD).  I don't know, there are funny things that come up about NSCAD and New York, it's a nice reminder of where I'm coming from.."
Her advice to future design grads is to "Take big risks. A lot of being successful is putting in the work, paying your dues, and keeping your mind open to possibilities."
This story originally appeared in the Herald Magazine (Issue 7, Volume 3, N
ovember 2014).