So far, it's morphed into a unicorn, a declaration of love, an advertisement for free hugs … and that was just in the last few days. There's no telling what Catherine Laroche's Barrington Blocks art commission will turn into next.
"I can't thank Rory MacDonald enough for the opportunity he's given me," says Catherine, 23, a graduating NSCAD. "I'm still blown away by it all."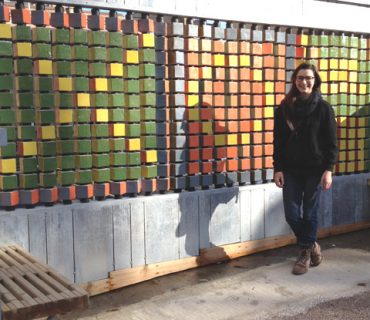 Catherine's colourful, interactive work is Halifax's latest public art project, coordinated by Fusion Halifax and the Downtown Halifax Business Commission, and it may be the most fun. It was created in response to enthusiastic public feedback gathered during Nocturne in 2013 about what could replace old wooden seating located on Barrington Street (at George Street) to spruce up the heart of the downtown. The company Eco Green Homes was selected to design and build the new benches and planters, and Prof. Rory MacDonald, chair of NSCAD's Craft Division, was approached to see if he knew of an artist who could take on the artistic component. He did, asking Catherine to take on the job.
"It's been an incredible experience, a huge learning curve," says Catherine, who decided to transfer from Concordia University to NSCAD after a campus visit, falling in love with the school and the city, its friendliness and offbeat vibe. "It's one thing to make art for a class, but to make art like this in a real-world setting is amazing."
Barrington Blocks comprises ceramic blocks in "off tones" of blue-grey, orange, yellow and green that can be turned to create simple images or to spell out messages. Each block measures 3½" by 3½" and there are 384 altogether, arranged on aluminum poles.
"Now it's up to the public to keep it going and make it interesting," says the Montrealer, who warms to Halifax's friendliness and community feeling. "…my hope is that people who commute will look forward to passing it every day and seeing how it's changed."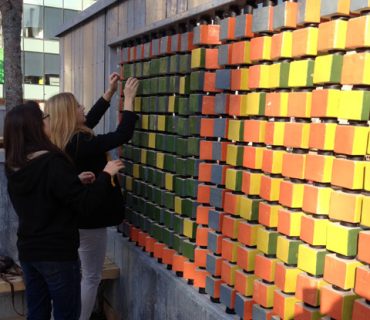 For more information on how the project developed, see:
https://barringtonpostonline.wordpress.com/benches-project/