Artist Talks: January 17-31, 2020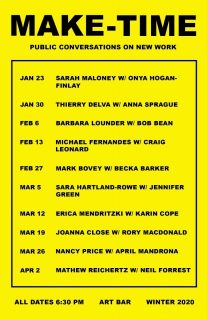 Make-Time Series
Sarah Maloney with Onya Hogan-Finlay – Thursday, January 23, 2020, 6:30 p.m.
Thierry Delva with Anna Sprague – Thursday ,January 30, 2020, 6:30 p.m.
Both presentations take place at Art Bar +Projects, Fountain Campus, 1873 Granville St, Halifax, NS.
The structure of the evenings is a 20-minute presentation (of new work or work-in-progress) by the faculty member whose work is the subject for a conversation; a 20-minute one-on-one conversation about the work between two faculty members in front of an audience; followed by 20-minutes of open questions from the audience.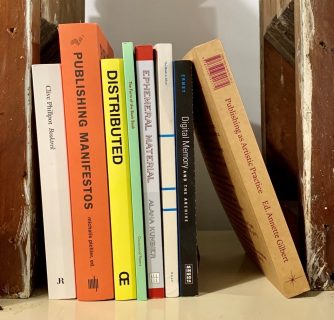 Research-Creation Talks
Rebecca Young
Friday, January 24, 2020, 12 p.m., Art Bar +Projects, Fountain Campus, 1873 Granville St, Halifax, NS.
To launch the Winter 2020 series of Research-Creation Talks at NSCAD University, Rebecca Young, Director of the NSCAD Library, will give a talk about issues that influence academic librarianship, and how art libraries are in a unique position amid the general shift to ebooks and other forms of digital publication. Young's research interests include artists publications and archives.
The Research-Creation Talks series is a research colloquium in which NSCAD faculty present their most recent projects. The Research-Creation Talks is an informal venue to disseminate knowledge, exchange ideas and incite creativity in a collegial environment.
For more information, visit https://guides.nscad.ca/.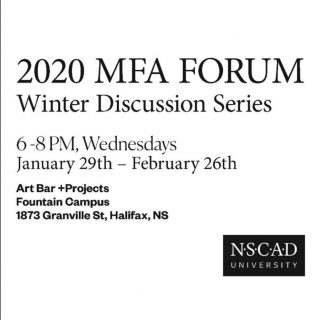 2020 MFA Forum
Winter discussion Series
January 29 – February 26
Discussion Series #1
Guest Participants: Master of Arts in Art Education
Students with April Mandrona
Wednesday, January 29, 6 p.m., Art Bar +Projects, Fountain Campus, 1873 Granville St, Halifax, NS.
This Winter, the MFA Forum will host a discussion series. The intention is to foster increased collaboration between faculty and graduate students, and to host an event for exploration, experimentation and discussion of a variety of topics within the University Community. The seating configuration during this event will be circular, and the public is invited to attend and participate. Conversations will pivot from a particular keyword chosen by participating groups, and will include readings, performances, discussions about studio work, other artists, etc.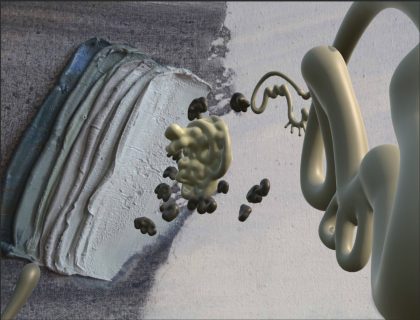 Save the Date
FEB 5: 2020 MFA FORUM, Discussion Series #2, 6 PM, Art Bar +Projects
FEB 6: MAKE-TIME SERIES, Barbara Lounder w/ Bob Bean, 6:30 PM, Art Bar +Projects
FEB 7: RESEARCH-CREATION TALKS, Neil Forrest, 12 PM noon, Art Bar +Projects
FEB 13: MAKE-TIME SERIES, Michael Fernandes w/ Craig Leonard,
6:30 PM, Art Bar +Projects
FEB 27: MAKE-TIME SERIES, Mark Bovey w/ Becka Barker, 6:30 PM, Art Bar +Projects
FEB 28: ARTIST TALK, Veronika Szkudlarek,1 PM, Bell Auditorium
(Above image: Veronika Szkudlarek)