November 3, 12 noon in the Granville Learning Commons
Students are invited to a presentation on the opportunities available to artists and craftspeople at the Cape Breton Centre for Craft & Design (CBCCD). During this session, Artist Residency Coordinator Vicki Clough will outline the various programs on offer, each one designed to support creatives in a different way. From the long-term studio rental and business development program at the Customs House Artisan Incubator, to short-term studio practice intensives and everything in between, CBCCD has a residency program for all kinds of creative practices. Cape Breton is home to a highly connected and vibrant community of creative folks with a wide array of practices that include jewellery, textiles, woodworking, glass, ceramics, pottery, painting, etc.
About CBCCD:
Cape Breton Centre for Craft & Design, a for impact charitable organization, is an integral and leading force in the educational, promotional and economic development of the craft sector on Cape Breton Island with a membership of over 300 individuals and organizations throughout Cape Breton Island, the traditional and unceded territory of the Mi'kmaw people of Unama'ki.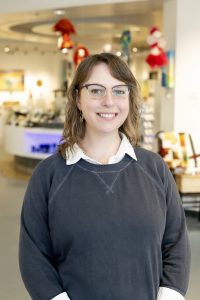 Vicki Clough is a Curator, writer, public programmer, and the Artist Residency Coordinator for the Cape Breton Centre for Craft & Design. Clough attended the Galway-Mayo Institute of Technology (now the Atlantic Technological University) in Ireland where she obtained her Bachelor of Art & Design and her Bachelors of Design in Textiles, and later moved to Toronto to attend OCAD University where she completed her Master's of Fine Art in Criticism & Curatorial Practice.
Clough's practices are rooted in community engagement and sustainability, and this has helped her in her in her various roles over the years, including as Programming Coordinator at The Bentway Conservancy, Constituent Curator at Myseum of Toronto, Curatorial Director for Figment Toronto, and Impact Lab Coordinator, Curator, and Researcher at OCAD University.
vicki@capebretoncraft.com