Fashion design team Chloé and Parris Gordon managed to get away from their growing fashion business Beaufille for a week last summer at their family's summer home in Chester, NS.

But for busy, creative people, it's hard to truly relax with the concerns of work swirling about. And so, on a hot summer day when the sisters headed to the end of the dock to dip their toes in the ocean, it was with thoughts of their fall/winter collection. What could they do to make the line stand out?
Looking down in the water at the seaweed floating on the surface of the water, they came upon their answer. They noticed how the feathery green fronds changed to chartreuse at the tips.
"The ombré effect was really, really beautiful," says Chloé (BFA 2010), on the phone with her sister Parris (BFA 2011) on another line at Beaufille's Toronto studio, "and that led us to pick out unexpected colours that we could put together in graphic and punchy ways."
The pair returned to Toronto refreshed and with the inspiration needed to start building a fall/winter collection. Giving their usual subtle palette some jolts of yellow, bordeaux and green, they also played with ideas of masculine and feminine, juxtaposing classic men's tailoring with softer feminine styles—as evidenced by a fitted, tailored jacket with top stitching to mimic a the boning lines of a corset. Jewellery included earrings, cuffs and statement rings featuring leopard agate, a gemstone speckled like the coat of a leopard.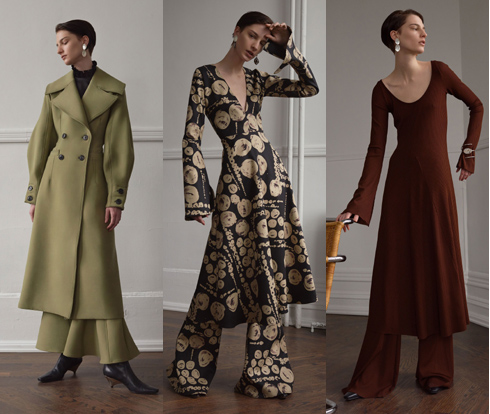 Their gamble with unusual colours paid off when their fall/winter collection debuted at New York Fashion Week, February 8 to 16. According to Vogue, "Beaufille designers Chloé and Parris Gordon are hitting their stride … It isn't often that a young brand is both editorially and commercially successful, but the Gordon sisters have figured out a formula for that balance."
"Effortlessly cool and impossibly chic," added Women's Wear Daily.
And Forbes magazine, which named the sisters to their Top 30 Under 30 List, said "what Beaufille has mastered is the coveted I-just-throw-this-on-when-I-don't-think-about-what-I'm-wearing aesthetic."
That's the thing about the fashion industry, agree the sisters. "Effortless" is the highest compliment paid, even when finding inspiration, creating the designs and keeping up with the pace of business are anything but.
Chloé and Parris will be NSCAD University's guest hosts for Dialect: The 2017 NSCAD Fashion Show on Saturday, April 22. When back in Halifax at their alma mater, they'll speak to current students about what it takes to make it in fashion.
"If we have words of wisdom, it's that you really have to be very passionate because you work a lot," says Chloé. "Talent is great, and absolutely you need it, but the thing that will get you far is the ability to work hard."
Adds Parris: "You'll work hard if you love it. That's what pushes us forward and motivates us."
They also believe they have an edge owing to their NSCAD education, where Parris focused on Jewellery Design and Metalsmithing and Chloé  studied Textiles and Fashion. Fashion and jewellery are the two pillars of their collaboration.
"For me, the fact that I studied both textiles and fashion is a plus, because textiles is where you learn innovation and I can bring that to the fashion. To understand textiles in the way I do from being at NSCAD is such an asset," says Chloe.
NSCAD's Textiles / Fashion program has three streams: weaving, dyeing and screen printing, and fashion.  Notably, some of the pieces from their fall/winter collection that caught the eye of the Vogue writer featured a "discharge print," in which the dye is removed from the fabric to create a print; it's a technique taught at NSCAD.
After a short conversation, work beckons. Pieces from their 2017 spring/summer line are getting shipped and orders for 2017 fall/winter are coming in. And then there's the new resort collection to have ready by the end of May; there are design sketches to be done, prototypes to make, and a lookbook photo shoot to arrange.
"There's always a problem to solve or someone who has to speak to you right away," says Parris. "You get used to it and better at multi tasking."