NSCAD University announces Tier 1 Canada Research Chair in Transatlantic Black Diasporic Art and Community EngagementK'jipuktuk/Halifax (June 16, 2020)
– Today, NSCAD University announced Dr. Charmaine A. Nelson as its Tier 1 Canada Research Chair (CRC) in Transatlantic Black Diasporic Art and Community Engagement.
It is NSCAD's first CRC Tier 1 award, the highest award that a university can receive from the tri-agency initiative of the Social Sciences and Humanities Research Council (SSHRC), the Natural Science and Engineering Research Council (NSERC) and the Canadian Institutes of Health Research (CIHR).
Dr. Nelson, formerly a full professor of art history at McGill University who researches and teaches subjects related to postcolonial and black feminist scholarship, transatlantic slavery studies and black diaspora studies, brings to NSCAD a passion and scholarly record of addressing histories of social justice to build futures of resilience and resurgence. Dr. Nelson will use the funded, seven-year (renewable) position to work with NSCAD to develop the Institute for the Study of Canadian Slavery.
"Dr. Nelson is an exceptional researcher and such an excellent choice for NSCAD's first Tier 1 Canada Research Chair," said Andy Fillmore, Member of Parliament for Halifax. "The impact of Dr. Nelson's work to uncover, preserve, and share the difficult history of Transatlantic Slavery will start here in Halifax—a city that continues to confront systemic racism built on generations of discrimination—and it will ripple across the country and around the world. The Government of Canada is pleased to fund this project through the Tri-Council funding agencies."
The institute's infrastructure will be created at NSCAD's historic Fountain Campus in downtown Halifax through funding from the Canadian Foundation for Innovation and the Nova Scotia Department of Communities, Culture and Heritage. As a dynamic, innovative hub for the study of the art, visual cultures, and histories of Canadian Slavery and its legacies, it will be the first such research institute in the nation and only one of a handful in the world that focus on Transatlantic Slavery.
Its creation at NSCAD is significant given Nova Scotia's important, yet relatively suppressed, history of slavery. The institute will allow scholars to work alongside cultural practitioners to unearth and respond to relatively unknown histories and contribute to the growing narrative of contemporary Black culture informed by histories of oppression and resilience.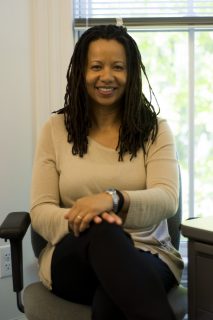 "Black or African-Canadian studies in Canadian academia continue to be largely absent compared to the progress made over decades in the United States for such programs, department and institutes," said Dr. Nelson. "I am very pleased that creating this infrastructure with NSCAD will provide a one-of-a-kind destination with the space, resources, and community for scholars, artists and cultural producers to create work related to Canadian Slavery and its legacies. "
The institute's other goals include building capacity in the digital humanities to collect, preserve and access primary sources about Canadian Slavery and its legacies; training and mentoring undergraduate and graduate students in the fields of transatlantic slavery studies, Black diaspora studies, Black Canadian studies and studies of Canadian Slavery, and; educating the lay public about the existence and nature of Canadian Slavery and its ongoing relevance to contemporary lived experience.
NSCAD's Vice-President (Academic and Research) Dr. Ann-Barbara Graff recognized the importance of the CRC program and today's announcement.
"This unprecedented award for NSCAD represents the university's commitment to its African Nova Scotian community partners and its goal to redress social injustice and promote resilience. Moreover, it recognizes the importance of arts and humanities as a disciplinary space to generate Canada's creative future," said Dr. Graff. "The institute's work will form part of NSCAD's academic and public programs that require the expertise of an internationally respected scholar of Dr. Nelson's calibre. Being able to appoint her in this position reflects our aspirations to be a prestigious research institution as well as Canada's premier art university."
A former Fulbright Visiting Research Chair and Visiting Professor at Harvard University, Dr. Nelson has held three previous, significant multi-year SSHRC grants that resulted in scholarly monographs, lectures, international conferences and new university courses. Most recently she was awarded a five-year SSHRC Insight Grant (2020-2025) which will allow her to continue her active research agenda.
To date, Nelson has published seven books as well as various book chapters, journal articles and other publications. She has delivered over 230 lectures, conference papers, and talks across Canada and the USA, and in Denmark, England, Germany, Italy, Mexico, Norway, Scotland, Spain, Central America, and the Caribbean. Passionate about reaching lay publics, Nelson prides herself on her public-facing research dissemination. She has deliberately used media platforms that extend beyond the university conducting over 140 media interviews with various national and international media outlets including ABC News, Aljazeera, BBC One, The Boston Globe, Canadian Art, CTV News, Global Television, The Globe and Mail, The Montreal Gazette, The Toronto Star, and CBC Radio's Daybreak, The Current, Ontario Today, Sunday Edition and others. She has also published blogs with Huffington Post Canada and articles with The Walrus.
The new CRC said that a critical part of her work will be public engagement and building relationships beyond the traditional scope of academia, with the mission to teach people about the specific nature of Canadian Slavery as well as its far-reaching and complex cultural and artistic histories and related implications.
"The institute will allow average Canadians of all backgrounds to better understand the centuries-long presence of people of African descent in Canada," said Dr. Nelson. "As well as Canada's role within the broader transatlantic world as dependent upon the enslavement of 12 million expropriated Africans for the labour to produce an early version of modern capitalism."
The institute's work will focus on locating, documenting, collating, and digitizing rare and fragile archival holdings to help amend the existing historical record and make known the collected data for the study of Canadian Slavery and its legacies before these historic records are lost.
The CRC grant will help the institute become a research destination that will create exhibitions, forums, programs, modules, database, and other teaching and learning platforms to educate and train various stakeholders about these histories, including the production of educational outcomes and tools for both child and adult audiences.
The Canada Research Chairs Program is part of a national strategy to make Canada one of world's top countries in research and development. For more information, visit the Canada Research Chairs website at www.chairs-chaires.gc.ca.
About NSCAD University
NSCAD University offers a rigorous, interdisciplinary educational experience that is unlike any other art school in the country. For 132 years, our students, faculty and administrators have shared a commitment to progressive thinking and cutting-edge art, craft and design. For more information visit www.nscad.ca/.