Creative Social Ethics is an educational program based at the University of Cape Town in Cape Town, South Africa that is led by NSCAD Professor David B. Smith. The program partners with high schools from historically disadvantaged communities, and its goal is to make a tangible and meaningful impact upon the lives of individual learners, and in turn, the greater community as a whole.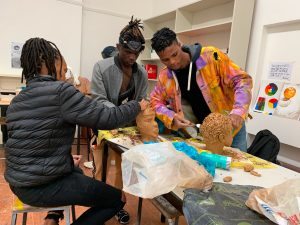 One part of the Creative Social Ethics program is the Portfolio Development Workshop located at the Michaelis School of Fine Art. The workshop is designed for learners who wish to study arts-based disciplines at university (visual arts, design, architecture, etc.) but have never had the opportunity to develop the requisite skills or portfolio for admission.
Learners in grades 11 and 12 come to the program from various community high schools on a weekly basis throughout the school year to participate. The workshops are led by Dr. Roderick Sauls, a visual arts instructor and community artist, who is joined by Michaelis students and a NSCAD student on the instructional team.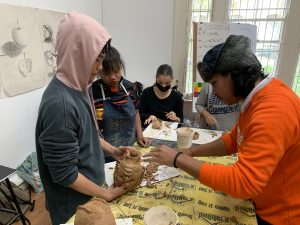 This is a unique opportunity for current undergraduate or graduate NSCAD students who have an interest in art education and teaching to spend a semester in either 2024 or 2025 in South Africa at the University of Cape Town. Summer semester runs from May through August and winter semester runs from February through May.

The NSCAD student will be given a studio space at the Michaelis School of Fine Art and will be given access to its facilities. The selected student will receive up to 15 credits toward their degree requirements (6 credits ARTS 3450 CSL/Internship and 3-9 credits ARTS 4010 undergraduate – or 6 credits MAED 6505 graduate practicum). The Creative Social Ethics program is privately funded thanks to the generosity of a friend to the university. Remuneration for the student selected to participate in this research assistantship includes round trip airfare to South Africa, student housing at the University Cape Town, and a living allowance. (note: regular NSCAD tuition and fees apply)
Qualifications
Any full time NSCAD student is eligible to apply (minimum 60 credits completed for undergraduate students before the beginning of the semester in which they will be participating).

Applicants must have an interest in art education and working with teens.

While there are no discipline specific skills requirements, students interested in applying should be well versed in a wide array of visual arts practices.

Prospective applicants should have an interest in developing creative projects with limited resources and equipment.

A collaborative approach to working, teaching, and good interpersonal skills are essential.

Interested students should have a level of maturity and responsibility that is appropriate for working with learners from historically disadvantaged communities.
Application process
Please send a letter of interest outlining qualifications to eshanahan@nscad.ca by Friday, October 13, 2023. Your letter should specifically address:
how your past experience and qualifications would enhance the program

what you hope to gain from the experience

the names and contact information of two references – at least one must be a current NSCAD faculty member

the semesters for which you wish to apply specifying

two

choices in order of preference (first and second choices)
Students selected for an interview will be contacted shortly after the deadline.
For more information about this opportunity, please email dbsmith@nscad.ca.
Photos: Cynthia Fraschetti – NSCAD student participant 2022