NSCAD University's Board of Governors has confirmed the appointment of Daniel O'Brien as acting president of NSCAD University.
With a year-long contract, Dr. O'Brien takes over from David B. Smith effective May 15, 2012. The Board of Governors' search committee will continue to look for a permanent replacement.
"Dr. O'Brien is an experienced administrator with a proven track record at St. Thomas University," says Michael Donovan, Chair of the Board of Governors. "We expect he'll be able to step right in and hit the ground running."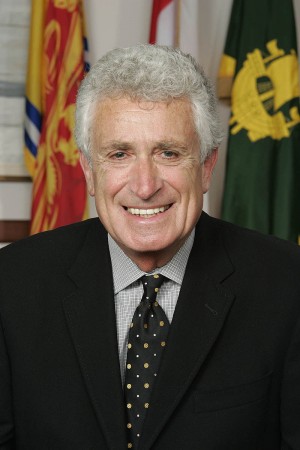 The former president at St. Thomas University in Fredericton, Dr. O'Brien says he's looking forward to working with the campus community and the provincial government on the implementation of NSCAD's "Framework for Sustainability," which was recently submitted to the provincial government.
"I've had the privilege of gaining an in-depth understanding of NSCAD over the past few months," he says. "Part of that understanding was the development of an appreciation for the truly unique role the university plays in post secondary education in Nova Scotia. I am committed to its value and am looking forward to doing my part, in conjunction with the Board of Governors, faculty, staff and students to continuing the work already started."
Dr. O'Brien was the president and vice-chancellor of New Brunswick's St. Thomas University from 1990 to 2006 and is St. Thomas's first President Emeritus. A member of the Order of Canada and the Order of New Brunswick, he is also the chair of Capital Health's board of directors and a longtime board member of the Beaverbrook Art Gallery in Fredericton. Prior to his appointment at NSCAD as facilitator, Dr. O'Brien served as acting president of the Atlantic School of Theology.