DHX Media, the world's leading independent, pure-play children's content company, has made a generous contribution to NSCAD University, Canada's premier university of fine and media arts, craft and design.
Home of Inspector Gadget, Teletubbies and This Hour Has 22 Minutes, Halifax-based DHX Media Ltd. is donating $600,000 over six years as part of the company's tangible benefits program to support the Canadian media industry. As Inspector Gadget would say, ''Wowsers!''
"We are grateful to DHX Media for this contribution to experiential learning and creative practice at NSCAD—important areas of focus for the university," says NSCAD President Dianne Taylor-Gearing.
The funding provided by DHX Media is dedicated to expanding experiential learning opportunities for NSCAD students. Funds will be used to develop internships for upper-year media arts students in film, animation and intermedia, allowing them to gain valuable work experience at the same time as earning course credit.
"This contribution sends a powerful message to an emerging media artist, confirming their immense creative potential.  It also demonstrates how much the community values its role in fostering mentorship and experiential learning opportunities," says Dr. Ann-Barbara Graff, Vice President (Academic & Research). "Thanks to this funding from DHX Media, NSCAD students will help to shape the future of media arts in Nova Scotia and globally through the opportunities opened up by media arts internships and thesis film production."
In addition, DHX Media will be contributing to the animation lab here at the Academy Campus. With funding being allocated to industry-relevant software that will provide students hands-on experience, the animation lab will encourage the continued development of knowledge for students across the program. Funds will also support the production of live action and animated films by NSCAD students in their final year.
"DHX Media is committed to assisting in the enhancement of future media arts professionals, thereby contributing to an already rich legacy of dynamic and innovative talent we've seen come out of Canada," says David Regan, Executive Vice President, Strategy and Corporate Development for DHX Media. "We've hired many excellent NSCAD grads over the years and, as a Nova Scotia company, we are very proud to support NSCAD, which has the raw talent, the interdisciplinary program of study, and the academic rigor our industry requires to create the quality of content demanded by audiences around world."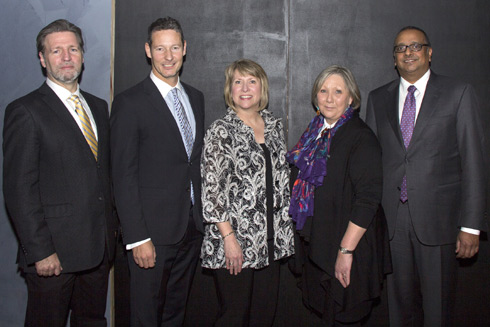 About DHX Media: DHX Media Ltd. (www.dhxmedia.com) is the world's leading independent, pure-play children's content company. Owner of the world's largest independent library of children's content, at more than 11,800 half-hours, the Company is recognized globally for such brands as Teletubbies, Yo Gabba Gabba!, Caillou, In the Night Garden, Inspector Gadget, Make It Pop, Slugterra and the multiple award-winning Degrassi franchise. As a content producer and owner of intellectual property, DHX Media delivers shows that children love, licensing its content to major broadcasters and streaming services worldwide. Through its subsidiary, WildBrain, DHX Media also operates one of the largest networks of children's content on YouTube. The company's robust consumer products program generates royalties from merchandise based on its much-loved children's brands. Headquartered in Canada, DHX Media has offices in 15 cities globally, and is listed on the Toronto Stock Exchange (DHX.A and DHX.B) and the NASDAQ Global Select Market (DHXM).