February is African Heritage Month in Nova Scotia, and Black History Month across Canada. In celebration, NSCAD University is featuring profiles of Black artists who will reflect on their at NSCAD.Duane Jones is an experienced graphic designer, artist and founder of the clothing brand and podcast Art Pays Me. He is also the president of the NSCAD Alumni Association Board of Directors, a member of the President's Advisory Council on Anti-Racist Initiatives, and holds one of two alumni seats on the NSCAD University Board of Governors.Jones lives in Halifax, NS, and graduated with honours from NSCAD in 2004 with a degree in Communication Design.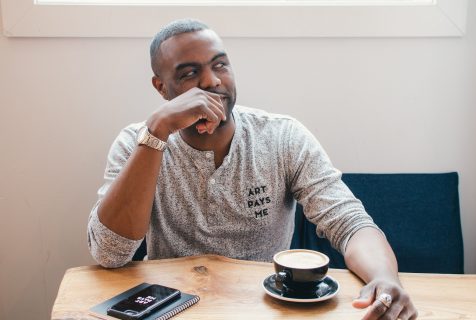 Why did you choose NSCAD?
In 1999, I was in the Art and Design Program at Bermuda College and was considering universities that offered an undergrad degree in graphic design. My art history professor at Bermuda College said that NSCAD was one of the best schools in Canada, so on his recommendation I applied and got in.
What is your fondest memory from your time at NSCAD?
Late nights working in the studio with my cohort of honours students.
How did NSCAD help prepare you for your career?
I remember a lot of us being hyper focused on learning the design programs and being frustrated that our design classes rarely addressed them. We had technical classes where we could learn the programs but design classes were strictly about design. The explanation we were given is that technology would change but core design and communication practices would still remain. As many design technologies have come and gone over the years I'm really grateful for that lesson because it gave me the ability to adapt to whatever is coming.
Describe the importance of African Heritage Month for Black artists?
Personally, I wish we didn't need it but there is a clear deficit in representation when it comes to the work of Black artists. There are systemic reasons for that, that aren't always malicious, but having a month where we make the extra effort to address the deficit is helpful. For example, the majority of art and design history I was exposed to, touted European aesthetic ideals as "canon" when there are many perspectives in the world worth exploring. When you think about how much Canada's Black population has contributed to the fabric of the nation as we know it today, it's worth shining some light on their creative accomplishments.
You moved to Halifax from Bermuda in 2000 to attend NSCAD, and have gone on to exhibit and speak at numerous venues in Canada and Bermuda. You also started 'Art Pays Me' before joining the NSCAD Alumni Board and the NSCAD Board of Governors. Throughout this journey, what are the most important lessons you learned that helped shape you as an artist?
I think the best thing you can do as an artist is to figure out what you really enjoy making and who the audience is for that thing. The way you do that is to get to know yourself and let it show in your work. It's embarrassing and awkward sometimes but the best reactions I've gotten as a speaker and an artist are from sharing ideas that I thought were completely unique to me but in hindsight were relevant to many.
How does your identity inform your work?
My work is completely informed by my identity. I have a hard time making art that doesn't have a specific message to convey. When I was young, the comics and characters I made were often a projection of how I wished I was. In recent years, my work has mostly displayed my opinions on racial, gender and sexual discrimination. I'm currently in a discovery phase where I'm trying to figure out what I want to talk about next but I think social justice will be a through line in my work for the foreseeable future.
Discussions like these are important, where would you like to see improvements in arts education and the arts community in general?
I would like to see creative careers promoted as viable options for all young people before they're even considering university. I think that once they're in art school, pricing, contracts, intellectual property, marketing and project management should be integrated into their education. We tend to think of business and money as icky topics but I think it's important that artists are reminded at every level that their art, craft or creative service has great value and it's not gross to demand fair compensation. It's easy to blame clients and the public for undervaluing us and I would like to see that mindset change. However, I think we'll get there quicker when we see the value in ourselves collectively first.
Who are the artists that you most admire? What type of influence do they have on your work?
When I was a kid, I was really inspired by comic book art and actually wanted to be a comic book artist at one point. Some of my favourite artists back then were Akira Toriyama, Todd McFarlane and Johji Manabe. Today, I'm really inspired by Jean-Michel Basquiat. I think he was incredible and wish that I knew of his work when I was a teenager trying to figure things out creatively. I also like how Kehinde Wiley uses an aesthetic often found in Eurocentric art history books to depict African American subject matter. As both a student of African American pop culture and fine art, I find that juxtaposition intriguing. I'm also influenced by Amanda Seales. She's a visual artist, actor, comedian, singer, rapper and show host who's unapologetic about who she is and what she wants her work to stand for. I've followed her for years as she experimented in all of these areas and had doors closed on her. Her response was to create her own platforms and focus on the approval of her audience and not the establishment. Now the establishment is starting to pay attention to her but she has the option to work with them or not because of the ground work she's laid over the years.
Learn more about Duane Jones and his work at: