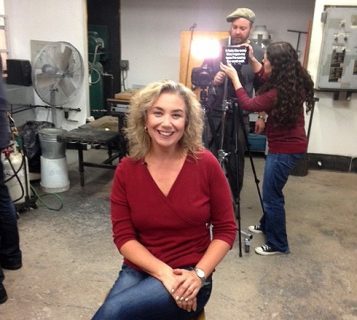 Celebrating Sandra Alfoldy
A gathering to honour the late Dr. Sandra Alfoldy, Monday, February 24, 6 p.m., Art Bar +Projects, Fountain Campus, 1873 Granville St, Halifax, NS.
Join us in a Celebration of Life for Dr. Sandra Alfoldy. We are dedicating the "After Anna" at the Art Bar +Projects from 6 – 8 p.m. to commemorate our beloved friend and colleague. Come bring a craft project in progress or create a new one with a Bedazzler and enjoy Sandra's favourite treats as we gather to remember her remarkable life.
*****
Artist Talk: Duane Jones
Tuesday, February 25, 1 p.m., Art Bar +Projects, Fountain Campus, 1873 Granville St, Halifax, NS.
Duane Jones is an artist and designer, and the founder of the Halifax-based clothing brand and podcast, Art Pays Me. The NSCAD community is invited to attend Duane's presentation about his creative path.
Find out what inspires him to say that, "Artists have the power to inspire revolutions, grow businesses, push culture forward and much more, yet most people are taught from a young age that art is something pretty to look at but not a viable way to make a living. I want to change that."
*****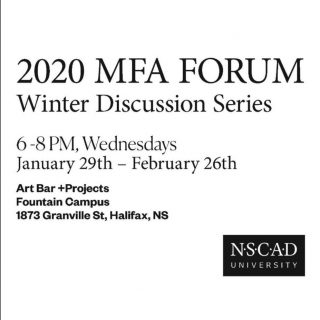 2020 MFA Forum: Winter discussion Series
January 29 – February 26, 2020, Art Bar +Projects, Fountain Campus, 1873 Granville St, Halifax, NS.
Discussion Series No. 3, Wednesday, February 12, 6 p.m.
Topic: Chronicles/Chronology (Group Members: Joseph Pesina, Bonita Hatcher, Felix Bernier, Kim Morgan, Thierry Delva).
Topic: White Cube (Gallery/Interior/Exterior/Politics) (Group Members: Luke Fair, Merryn Tresidder, Mohammadhossein Khodabakhsh, Camille Valcourt-Synnott, Jayne Wark, Barbara Lounder).
Discussion Series No. 4 Wednesday, February 26, 6 p.m.
Topic: IRL (Group Members: Sage Sidley, Lisa Klakulak,Takashi Hilferink, Khan Chongyin Yuan, Will Robinson, Leesa Hamilton, Charley Young)
Topic: Memory (Group Members: Drayden Decosta, Alexis Gros-Louis, Zehua Sun, Emily Davidson, Jan Peacock)
*****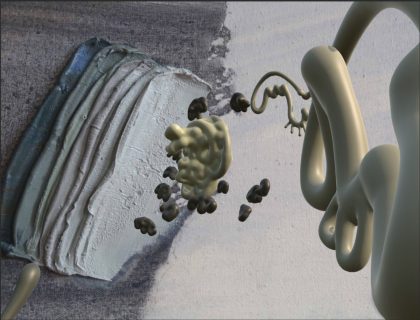 Artist Talk: Veronika Szkudlarek
Friday, February 28, 1 p.m., Bell Auditorium (D440), Fountain Campus, 5163 Duke St, Halifax, NS.
Veronika Szkudlarek is a painter whose work considers the impact of virtual reality on contemporary abstract painting by exploring hybrid relationships between physical materiality through oil paint and digital simulations in 3D software. Recent exhibitions include Queens Museum in NYC and Centre for Contemporary Practices in Kansas City (KCAI). She has been invited to speak at Columbia University and the FATE Biennale, among others. Szkudlarek is the recipient of the 2017 OCAD University Faculty of Art Teaching Award and the recipient of the 2019 Ontario Trillium Foundation Seed Grant. She is an Assistant Professor in Drawing and Painting at OCAD University in Toronto, ON.
*****
Save the date!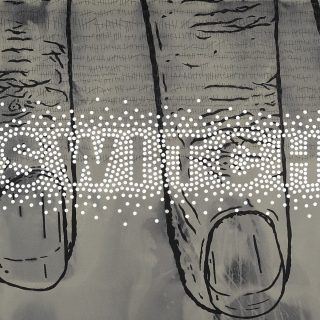 MARCH 4: ARTIST TALK, Kablusiak, 6 p.m., Art Bar +Projects
MARCH 5: RESEARCH-CREATION, Craig Leonard w/ Michael Fernandes, 12 p.m., Art Bar +Projects
MARCH 5: MAKE-TIME, Sara Hartland-Rowe w/ Jennifer Green, 6:30 p.m., Art Bar +Projects
MARCH 6: ARTIST TALK, Dusty Herbig, 12 p.m., Art Bar +Projects
MARCH 6: ROUNDTABLE on Inuit Curatorial Practice, 5 p.m., Art Bar +Projects
MARCH 10: PUBLIC LECTURE SERIES, Mark Dion, O'Regan Hall, 6 p.m., Halifax Central Library
MARCH 12: MAKE-TIME, Erica Mendritzki w/ Karin Cope, 6:30 PM, Art Bar +Projects
MARCH 18: ARTIST TALK, Eames Demetrios, 6 p.m., Bell Auditorium
MARCH 19: MAKE-TIME, Joanna Close w/ Rory McDonald, 6:30 p.m., Art Bar +Projects
MARCH 26: MAKE-TIME, Nancy Price w/ April Mandrona, 6:30 p.m., Art Bar +Projects
APRIL 6: ARTIST TALK: Camille Turner, 6 p.m., Bell Auditorium
(Above image: Dusty Herbig)