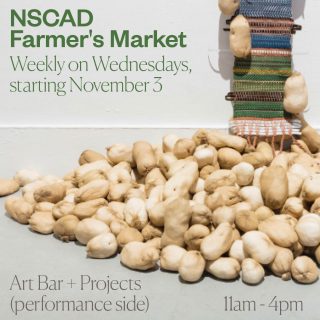 NSCAD is pleased to announce the start of a weekly Farmer's Market at the Art Bar +Projects at 1873 Granville St.
Starting November 3 from 11 a.m. – 4 p.m., you can expect to purchase a selection of fresh produce supplied by Abundant Acres Farm. You can also enjoy a fresh cup of coffee or tea to go. Students, faculty and staff are all welcome!
Bring your reusable bag and we'll see you every Wednesday.
Special thanks to Lianne Lessard, Eryn Foster and the Anna Leonowens Gallery team for this initiative.