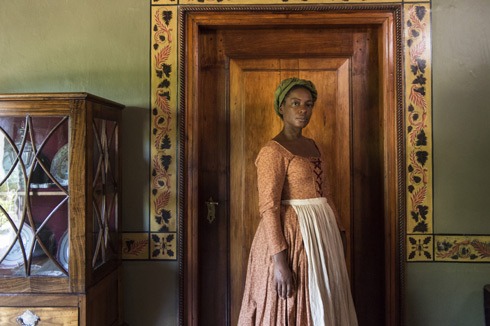 Many of us have dreamed about being in the movies—if not ourselves then our work—but who knew that being a bookmaker's apprentice could make that dream come true? Katherine Victoria Taylor sure didn't.
Katherine will see her work on the small screen when The Book of Negroes makes its debut on CBC-TV on Wednesday, Jan. 7. Working under the tutelage of master bookmaker and NSCAD part-time faculty member Joe Landry, Katherine helped to recreate the historical The Book of Negroes which gives the upcoming mini-series and Lawrence Hill novel their names.
Filmed in part in Shelburne on Nova Scotia's south coast, The Book of Negroes tells the story of Aminata Diallo and her journey to freedom after being forced into slavery as a child. Part of Diallo's journey leads her to registering 3,000 Black Loyalists in what was to be called "The Book of Negroes," a historic British military ledger that recorded their passage from Manhattan to Nova Scotia after the American Revolution.
The process of recreating the book, bound with linen and calf-skin, took several weeks. Working closely with the props department from the film, which acted as a go-between with the director, Katherine and Joe suggested materials they thought were historically appropriate for the piece. Katherine described the process as "a very interesting look into movies."
"There were a lot of factors that went into play. (For example) the original account book The Book of Negroes has been rebound several times, so we were trying to re-create what it would have looked like in that time period and so that took some educated guess work," said Katherine.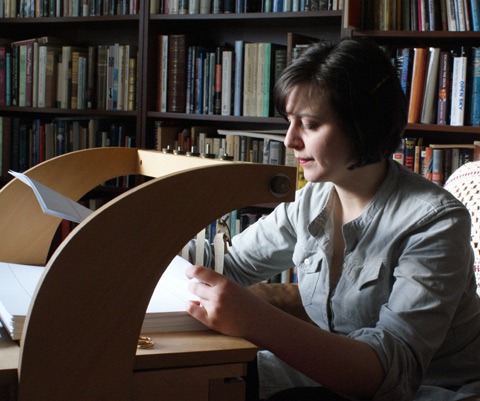 "We decided on an account book structure and picked some materials, but then the film director looked at the materials and was like, 'that's good and that's good, but do you have better paper?' And we were like, 'this is really good paper.' But they wanted to achieve a certain look and also things look differently on camera, so we ended up striking a balance and using a reproduction parchment paper."
Besides recreating the book, Katherine and Joe worked on set of the mini-series for three days consulting on the reconstruction of an old-fashioned print shop. Katherine spoke excitedly about the experience.
"Our reproduction common press that's in the Dawson Print Shop is in the movie. So we rented that to them and then were on set to set it up and showed people how to use it. Also, the setting up of the print shop in general and bringing extra little touches for around the print shop to kind of make it look a little more authentic."
The 14-hour days on set were sometimes rough for the NSCAD grad (BFA Interdisciplinary '14), who was unaccustomed to such long hours, many of which were spent waiting. However, "we were treated really lovely by everyone on set," said Katherine.
She went on to say, "People see print shops… as very magical places so they're always fascinated and excited by everything you do. So as we walked around set, not everybody knew our names but everybody knew that we were connected with the print shop so they'd be like 'Hey printers', 'Printers it's almost time for food, come over here.' Everybody was looking out for us and being really sweet."
Another unexpected aspect of being on set was getting to take part in the documentary on the making of The Book of Negroes. "Joe (Landry) is a very modest and humble man, so he tends to push me into the spotlight… So they had me stand there and talk, show them how I sewed the pages to make sure it would open well."
Being a bookbinder's apprentice isn't a position that Katherine saw herself being in. She said people are often surprised when she tells them that there's work in bookbinding.
"There's interesting bits of work in it but you have to have very specialized skills and I'm very lucky to have the support of Joe because without him this wouldn't be stuff that I could just do all on my own because it does require different skills than what I learned in school. What I learned in school was based on making books from scratch and you can only cover a certain amount of techniques in two courses," she said.
"It's funny, one time Joe told me that 'my sewing was very good' and when I was telling my friends this I made the analogy 'That's like Michael Jordan telling you you've got a really sweet dunk or something.'"
Katherine and Joe are currently working on many projects including conserving and reproducing copies of a First World War soldier's journals that are to be donated to public archives in London, England.
More on The Book of Negroes:
The Book of Negroes makes TV debut Wednesday on CBC-TV