With a strong focus on entrepreneurship, the Craft Division will help you prepare for life after graduation. While many students go on to become successful artists, designers, or craftspeople, others take their versatile training and start their own businesses or embark on exciting creative careers in related fields.
The Craft Division is a place of theory and exploration. Through a combination of rigorous liberal arts scholarship and studio practice, you will develop traditional craft techniques and learn how your chosen discipline connects to other fields. What is the relationship between ceramics and architecture? How can textiles integrate into applied medical applications to improve lives? These kinds of cross-disciplinary questions drive and inspire Craft students at NSCAD.
All three programs encourage students to pursue individual forms of expression while thinking critically and seeking innovative solutions. Over the course of your degree, you will experiment with traditional methods, new technology, and industrial processes.
With a strong focus on entrepreneurship, studying Craft will also help you prepare for life after graduation. While many students go on to become successful artists, designers, or craftspeople, others take their versatile training and start their own businesses or embark on exciting creative careers in related fields.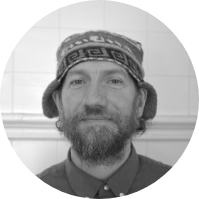 RORY MACDONALD
Rory MacDonald is interested in the many roles for ceramics within the practice of craft, design and art, concentrating on the development of public audiences and spaces for contemporary ceramics. He has developed site-specific firing and new techniques for glaze applications for architecture and public space. He has exhibited nationally and internationally, participating in numerous residences including the Experimental Sculpture Factory (China) and Thematic Residency-Imanginary Places at the Banff Centre. He received his MFA from Alfred University (1999).
Email Rory.
JENNIFER GREEN
Jennifer Green is an Assistant Professor in the Textiles/Fashion Department at NSCAD University. Green is a textile designer who has designed fabrics for artisanal and industrial production across the fields of fashion, accessories, vehicle design and interiors. Upon completing her Masters of Fine Art at the Royal College of Art in London, Green worked as a denim designer in Belgium. Since returning to NSCAD in 2016, Green's primary area of research is in bast fibres spinning and weaving. Specifically, Green is investigating sustainable plant fibres in Eastern Canada and is helping to develop a sustainable fibre industry in Nova Scotia.
Email Jennifer.
REBECCA HANNON
Rebecca Hannon is a jeweller and educator based in Halifax, Nova Scotia. In her work she investigates adornment in relation to the human form. A choice to attach an object to the body drives her to question and create stories. Cultural histories gleaned through travel, and the people she meets shape her work. Rebecca maintains an active studio practice in addition to serving as faculty at Nova Scotia College of Art & Design and her work could be seen at Musée des Beaux Arts de Montréal, Museum of Art & Design, NYC, and Racine Museum of Art over the past year.
Email Rebecca.
GARY MARKLE
In 2013 together with Professor Glen Hougan, Markle was awarded a two-year Canadian Institutes of Health Research (CHIR) grant to investigate design for healthy ageing. Markle's research was focused on garments for seniors. The aim was to design clothing that maintained dignity and balanced style and functionality, resulting in continued independence for the wearer. This research culminated in "Worn Well" a community based research project in partnership with Lunenburg based Buzz Holdings (fall of 2015). SSHRC NSCAD RDF 2016 with Kim Morgan to investigate SCOBY fibre for future research-creation purposes. He also maintains a research-creation practice that focuses on site reactive instillation with materiality and community as a common thread connecting the various strands of his practice. Most recently participating in an Artist Residency with and Performance work commissioned as a collaborative work for The Floating Warren :Flotilla, Charlottetown PEI 2017.
Email Gary.
GREG SIMS
Greg Sims is an artist, designer and educator based in Halifax, Nova Scotia. As Assistant Professor in NSCAD University's Division of Craft, his research focuses on 3D digital design and digital fabrication techniques integrated with tradition craft/jewellery materials & process. He was awarded a Master of Arts degree from the School of Jewellery- University of Central England in 2003 and completed his undergraduate studies at OCAD University in 1999. Exhibitions include CAN Craft, Craft CAN at the 2017 Canadian Craft Biennial, re: growth, at Mary Black Gallery, Halifax, NS, 2010 and Schmuck 2005, Germany. In 2013, he organized and curated Making It Real, an international exhibition of digitally fabricated objects. From 2007-11, he worked as a designer and researcher with the @lab Research Facility at NSCAD and Dalhousie University, developing and manufacturing collapsible, responsive structures on an architectural scale (tents, stage sets and furniture). Client work includes commissioned artworks (Nova Scotia Association of Architects, Nova Scotia Health Research Foundation) prototyping and product development.
Email Greg.
KYE-YEON SON
Kye-Yeon Son was born in South Korea and earned a BFA degree in Applied Art in 1979 at Seoul National University, Korea and a MFA in Jewellery Design and Silversmithing in 1984 at Indiana University, Bloomington, IN, USA. Son has been teaching at the NSCAD University, Halifax, Canada since 1995. As a recipient of the prestigious Saidye Bronfman Award, a Governor General's Award in 2011 Visual and Media Arts, Canada, she has exhibited her works in numerous solo shows and group exhibitions in public and commercial galleries across Canada, the United States, Britain, Germany, Japan, and Korea. Her jewellery/object is interpreting emotive qualities such as resiliences, fragility, and endurances can be sensed through the persistent transformation of tree branches.
Email Kye.