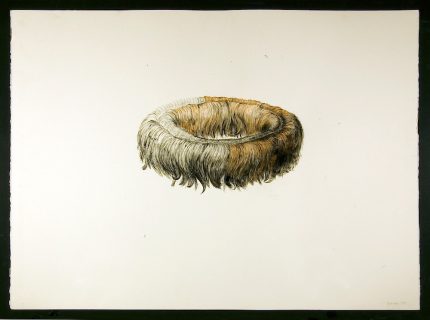 Halifax-based artist, Jody Zinner, BFA '08, was named one of 12 regional winners of the prestigious BMO 1st Art! Invitational Student Art Competition.  Her winning work, "Circle of Hair," was selected from among a record 218 entries received from students across Canada.
Zinner's artwork reflects both coming to terms with her family's personal  history as Holocaust survivors and the anxieties she experiences as a young person embarking on a career in turbulent , uncertain times.  She is currently interim director of the artist-run Khyber Arts Society in Halifax.
The national winner, Alex Kisilevich of OCAD, receives $5,000, while the regional winners each receive $2,500 for his or her artwork. All the BMO 1st Art! winners' works will be on display at the Museum of Contemporary Canadian Art (MOCCA) 952 Queen Street West in Toronto from October 7 to November 1, 2009.
BMO 1st Art! Invitational Student Art Competition is a celebration of the creative excellence of art students from post-secondary institutions across Canada. Deans and instructors of undergraduate certificate, diploma, and degree programs in visual art are invited to select three students from their graduating classes whose ability and imagination place them top among their peers. A distinguished panel of judges chooses an overall national winner and one winner from each province and territory.